Director's agenda overshadows film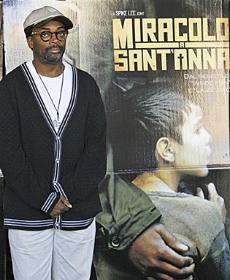 Associated Press
Spike Lee smokes more than he can inhale in his latest joint "Miracle at St. Anna," an overwrought World War II film about the 92nd African American Infantry Division trapped behind enemy lines in Tuscany, Italy.
Inexperience shows in "Miracle." Writing that is no where near
intelligent enough to handle the subject matter, over the top acting and sloppy directing from an auteur who should know better all plague this half-baked mess from start to finish.
Whatever lengths Lee has gone to in the past to press the issue of racism is nothing compared to what the controversial director does in "Miracle at St. Anna," which teeters on the line between extreme and obnoxious. Lee's commentary on the issue takes over too much of the film, breaking the flow in the narrative.
Throwaway scenes that serve no purpose other than to preach Lee's message squander any potential the film has at building suspense. This is not to say that his message is not important, because it is. But what Lee fails to do in "Miracle," is provide an excellent social commentary that doesn't overshadow the film's story.
With a tone that echoes superior war films "Saving Private Ryan" and "Letters from Iwo Jima," "Miracle at St. Anna" feels not like an original work from a competent director, but rather an imitation from a filmmaker with illusions of grandeur.