Clark works hard on volleyball court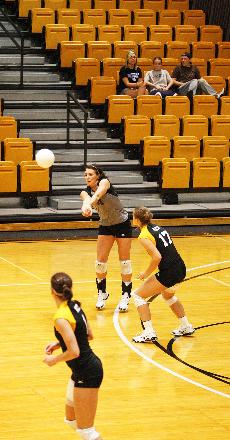 Tim Downer
When asked to describe herself, Northern Kentucky University volleyball player Chelsea Clark said she is someone who is always having a good time and who doesn't take oneself too seriously. She added that – that side of her personality is not the same as one would see of her on the volleyball court.
"Off the court, basically all I do is laugh and joke around," Clark said. "I'm completely opposite on the court; I'm really intense and I don't really have a personality."
Elizabeth Holmes, assistant coach of the NKU volleyball team, describes Clark as a significant cause for the success the volleyball team has had this season.
"She's a major reason we're doing so well this season," Holmes said of Clark.
According to Clark's player biography on the NKU Volleyball team's website, Clark was a member of Yorktown High School's 2007 graduating class. She helped Yorktown reach a No. 1 ranking in the 3A division and was named All-Hoosier Heritage Conference and All-Area honors as a senior.
Clark, a sophomore sports business major a native of Yorktown, Ind., is now in the second year of her career at NKU, and describes the time she has already spent as at the university as "awesome."
When asked, she said she couldn't pick only one aspect as a favorite, but hinted that perhaps the university's home, in Highland Heights, Ky., is one reason for the enjoyable time spent at NKU.
"I love the location," she said. "It's nice that everything is so close."
Her biography also indicates that she set a school volleyball record with 27-kills in one match.
She has already seen similar successes within her two-year volleyball career at NKU, recording a career-high 41 digs in one match, when NKU defeated Wheeling Jesuit on Sept. 23; Clark had 14 digs in the first set, ten digs in the second set, eight digs in the third set and nine digs in the fourth and final set against Wheeling Jesuit.
However, Clark says that statistics isn't what's her on her mind when she's on the court.
"We have some of the best hitters in the conference and the region," she said. "I'm just trying to get a consistent ball up to Natalie (Forbes) so we can run our offense."
That mentality is perhaps what helped Clark land a starting spot to be held by an underclass man in her first season with the Norse.
As a freshman, Clark played in 35 matches for NKU. She served up 39 aces, collected 175 kills and concluded the 2007 season ranked second in recorded digs with 331 behind Tristen Dye, who collected 446 digs.
She also left an impression on Holmes, her former teammate and current coach.
"She played last year, as a freshman, and she stepped up to play the outside for us," Holmes said. "She's been on the court all year and she's putting in a lot of hard work. She's just a really good player."
Clark regards Holmes, who played her final season with the Norse in 2007- along side of the then-freshman Clark-is now the team's assistant coach, as being one of her role models as during her freshman season.
"I was the only underclassman to be a starter, so I had Liz (Holmes) and Tristen (Dye) to follow," she said.
Clark added that having her ex-teammate, Holmes, as a coach has been a good experience, and has proven beneficial for the team.
"It's been awesome having Liz around, she's a really good coach," she said. "Coming from the playing aspect, she sees things that Carlos may not, and that helps a lot. She has pointed out so much that's help us, she is a huge reason we are having a successful season."
And a successful season, indeed, it has been for the Norse.
Clark's career-night – and NKU's defeat of Wheeling Jesuit – marked the teams third consecutive victory since the loss of their first non-tournament match to Lewis ten days earlier. Three weeks later, the Norse are still not showing any signs of weakness, capping a five-game home stand with a win against Quincy for their ninth straight victory.
The Norse received their first national ranking of the season when they were ranked 23rd in an Oct. 6 Division II coaches poll by the American Volleyball Coaches Association.
Although NKU is arguably playing it's best volleyball of the season, winning 17 of its last 18 matches and improving to 18-3 overall and 8-1 in the Great Lakes Valley Conference, the Norse still have much work to do through out the remainder of their schedule, Clark says.
"We keep getting better and better as the season goes, and we just need to continue doing that," Clark said. "We're going to have to stay focused; only take it one match at a time, don't overlook anyone, and peak at the end of the season, not in the middle."
Clark and the 23rd ranked Norse volleyball team will face-off against Rockhurst at 8 p.m. Oct. 9 at Rockhurst.
According to Clark, volleyball is not going to her only focus throughout the rest of the Norse's schedule.
Clark says that although the actual schedule of the season has the potential to affect her focus on academics, she is frequently reminded that she is a student-athlete, not just an athlete.
"Missing so much [school] because of volleyball-it's hard to keep up, but I am focused on school," she said. "[Coach] Carlos has always stressed that we are a student before we are an athlete, and school does come before anything else."