Choir to enter S. Korea contest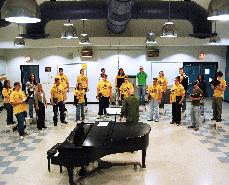 Mark Payne
The Northern Kentucky University Chamber Choir is embarking on a journey that will land them in Busan, South Korea from Nov. 10 to 16. The Choir will compete at the Busan International Choral Competition and perform at several concerts around South Korea as part of their tour.
Besides practice and a pre-tour before the festival, the choir has never performed together.
The choir, which has only been together since August and contains seven freshman, four sophomores, seven juniors and five seniors, said it's excited and nervous.
"For a lot of us this is the first time we have been out of the country, so we don't know what to expect out of the culture and other choirs," said a choir member.
They are the only choir selected from the United States to play at the choir festival. which features 19 choirs from countries around the world including Russia, Indonesia and Malaysia.
To get ready for the festival, students showed up to school a week before classes to get some extra practice in. As show time draws closer practice and focus has increased.
"We practice five days a week, and everybody is here everyday," said a choir member. "This is the most dedicated choir that we have ever had and although we haven't been together long, we are starting to gel."
This year's choir also gives credit to their director, Randy Pennington, for the diversity of music he selected, such as the choirs favorite song to perform "Elijah Rock."
Since the choir has never performed in public before, the only people who have had a chance to witness the group are parents of the members and music department faculty.
The choir will do a warm up tour before they leave for South Korea as part of the "Festival Gala Concert." The tour will feature three shows: 7 p.m. Oct. 26 at St. John's United Church of Christ in Newport, Ky.; 3 p.m. Nov. 2 at St. Paul's Episcopal Church in Newport, Ky.; and 3 p.m. Nov. 9 at Mt. Washington Presbyterian Church in Cincinnati. Performances are free to the public.
For more info on the choir and the concerts visit www.nku.edu/~music.com