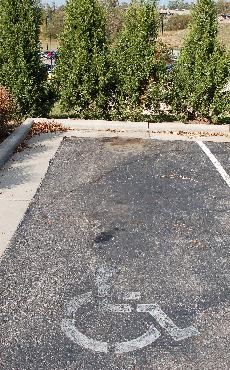 Dustin Robinson
At 4:07 p.m. Sept. 11, officer 133 issued Citation #000504685 to yours truly.
The citation declares that my violation is "parked in handicapped." If I had not appealed, I would be required to pay a fine of $100, and still may be.
Under normal circumstances, I would not dispute the fact that I needed to pay the fine. But, these circumstances are most certainly not black and white.
I parked my Scion tC in the above specified space – one commonly referred to as a "top spot," around 11:30 p.m. the night prior to the citation. This space is located above the sand volleyball court.
The "handicapped" parking space I parked in is ill-designated and does not even meet the standards of Parking Services.
According to Parking Services rules ' regulations, handicapped spaces must be indicated by one or more of the following: "international handicapped symbol painted within the lines and a vertically placed sign displaying the international handicapped symbol." The key word is "and." This indicates that it must have both the symbol and sign.
No vertically placed sign is in existence in either of the two parking spaces. The other allowable indication is not specified or unclear in the current policy.
There is one of the vertically placed signs on almost every other handicapped parking space on campus.
Because I parked my car the night before, I did not see the extremely faded paint on the road that "designates" it as handicapped.
I am intrigued as to why Parking Services can designate the majority of handicapped parking with the blue parking signs, but not these.
Wouldn't it be much more logical to have all spaces designated in a uniform manner?
This would most certainly aid in eliminating the confusion and resulting problems – potentially expensive problems, in my case.
After receiving the citation and immediately reading the appeals policy, I departed to the Parking Services building near the Bank of Kentucky Center.
Because I walked from my room in Woodcrest Apartments in the heat at almost 4 p.m., I was upset when I was informed by the receptionist that recipients of citations are only able to appeal online, despite the fact that the citation clearly states that citation appeal forms are available both online and at the Parking Office.
Had I parked in a handicapped space that met the requirements specified on the Parking Services Web site, I would have no problem paying the fine.
But, those requirements are not met.
According to the Woodcrest 411, a newsletter type publication for Woodcrest residents, the only handicapped spaces are the top three spots of the upper parking lot. The students who are receiving citations are not parked in those spaces.
It is clearly unfair that college students, who are already typically on very tight budgets, be forced to pay these charges when they do not deserve the citations.
Cierra Harris, a sophomore Electronic Media Broadcasting major, also received a citation. Her vehicle was parked in the space to the left of my car. She also owes Parking Services $100.
"I know many, many people who have also received parking citations for the same reason. They also appealled," said Harris. "Parking Services needs to be clear on what is considered handicapped and what is not. How are students suppose to know that these spots are handicapped? When you pull in at night time you can not see the faded handicapped sign on the ground."
How many other students have received similar citations for violating parking laws when the spaces were not clearly specified? If two students received citations every day since Sept. 11 because they did not realize they were parking in handicapped parking spaces, it would be $2,600 in fines – if Parking Services did not issue citations on weekends. Two thousand six hundred dollars in citations that are completely unjustified.
At the time of our publication, Parking Services has still not contacted me with a hearing date for my appeal. I was informed that the Citation Appeals Committee meets at the end of each month. September has gone with no communication from the committee.
Are you a victim of being issued an unfair parking citation? Please e-mail me your experience at robinsond2@nku.edu.