Dunham's dummies entertain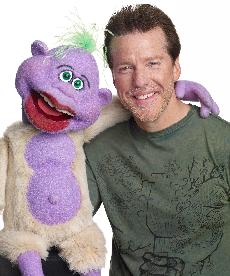 Jeff Dunham, with the help of his "family" of dummies, kept the audience in the Bank of Kentucky Center in stitches Sept. 26. "Spark of Insanity," with the renowned political ventriloquist, comes as the second act to grace the Bank of Kentucky Center.
"And we sold more tickets than Carrie Underwood,"he remarked in the opening act.
The audience was surprised with a little holiday humor as Dunham taped a portion of his holiday DVD at the show. When the audience responded with a less-than-favorable groan, he wondered out loud what had happened in Northern Kentucky to make everyone hate Christmas.
"Happy Holidays," Dunham greeted his puppet. Walter the grumpy retiree.
"Screw you. Merry Christmas," Walter replied, referencing increasing political correctness around the holidays and getting loud chees from the crowd.
Walter also recognized a woman in the front row from porn sites he had been visiting in his spare time.
"Turn around," he told her. "I think she's my screensaver."
When Walter said good night and Dunham uttered the word "Terrorist," the crowd exploded.
"You boo Christmas but you cheer a terrorist?" Dunham joked. "What's wrong with you Kentucky? You hate Christmas but you love terrorism?"
Achmed the dead terrorist, wearing a Santa hat to help him fit in, explained that he's a bad father for including his son in take your son to work day.
"My wife was upset and went to the market and asked where he was," Achmed said as he gestured around the packed arena. "I told her over there, over there and up there."
Guitar Guy, aka Brian Haner, joined Dunham on the stage to accompany Achmed in his favorite Christmas carol, "Jingle Bombs." This was after a discussion about "poliosis," a disorder that has curved Achmed's spine and causes him to randomly lose control of his legs.
Haner commented that the people in the front rows look like baby seals with their hands clasped and their mouths in an "O" shape as they reacted to his story about when his daughter was born.
The unquestionable highlight of his performance was his song "Sarah the Naughty Librarian" that declared his love for the vice-presidential candidate.
"That's what we do. I get you all ready and Jeff comes out here to club you," Haner said.
Peanut, who resembled a Sesame Street character on crack, followed Achmed with an enthusiastic performance produced by "Red Bull and … something else! Can't remember! Help!"
At one point, he suggested that Dunham should have been in "The Godfather." When Dunham asked why, Peanut said, "Because when you would've woken up with the horse's head in the bed, you could've made it talk."
Keeping up with the Christmas theme, Dunham attempted to read "The Night Before Christmas," with guitar accompaniment from Haner, but Peanut interjected with his own version of the story.
Then, for an encore, Dunham brought out Bubba J, a redneck who likes drinking beer and watching NASCAR. As Dunham pulled out his notes, he explained it had been so long since he'd performed the bit that he couldn't remember all the jokes.
"It's the encore," he said. "Who cares?"
Throughout the performance, the audience said Bubba's lines along with Dunham. "This has got to be the weirdest show I've done with him," Dunham said.
Bubba replied, "It's pretty bad when the audience knows the material better than you."