Student to perform at MidPoint Music Festival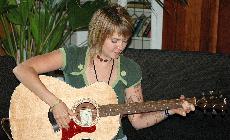 Mark Payne
Music from 22 states and six countries will invade Cincinnati Sept. 25 to Sept. 27 for the Midpoint Music Festival and one of Northern's own will be playing with the group.
Jasmine Poole, known as Wonky Tonk in the music world, will be playing the festival.
According to her Web site, Poole describes her genre as folk/indie/bluegrass. She began using the name Wonky Tonk in March and is the sole member of the group. Quickly attaining many shows and achieving much notoriety, Poole sees this opportunity as a dream come true.
"It's like I could die now, it's a dream come true," Poole said.
Midpoint music festival, sponsored for the first time by "CityBeat," a Cincinnati entertainment weekly, is an independent music festival that's coming to Cincinnati for its seventh year. Bands, whose sounds range from hip-hop to country to electronica, play in a wide variety of venues throughout Cincinnati and Northern Kentucky, such as the Southgate House and Cadillac Ranch (in downtown Cincinnati). The festival attracts many record label representatives as well.
Poole said the opportunity to play with such a diverse groups as an honor.
"I have respect for all these bands, and to play with them is an honor," she said. "Although I don't fit in, which is what makes Midpoint the incredible festival it is. It brings in all the outsiders, the deviants, the folks who are talented but haven't had a chance to showcase their talents."
Not just anybody can play Midpoint. Bands must submit their music with a strong press kit for themselves through "CityBeat's" Web site. Once received, a panel of judges scores the music and press kit. The highest scoring bands get in. Judges, however, do make exceptions for bands who are outrageously good but don't have a strong press kit.
Since "CityBeat" runs the show, there have been some changes to the festival, according to Dan Bockrath, general manager and co-publisher for the weekly independent paper.
"Past festivals have focused exclusively on independent, unsigned bands," he said. "One of the changes we've made is adding notable regional and national bands to the showcase lineup." A notable regional band is Robert Pollard's Boston Spaceships.
Bockrath sees the festival not as a huge chance to get a band signed to a record label, but more as an "opportunity for a band to come to town and get in front of an enthusiastic crowd of music lovers primed and ready to be fans."
Wonky Tonk plays at 8:30 p.m. Sept. 27 at the Ink Tank, located at 1311 Main St. Cincinnati.
For more info on Midpoint, a complete schedule, and tickets visit their website at MPMF.com, or Citybeat.com.
Video produced by Mark Payne