Norse hammer Miners 3-1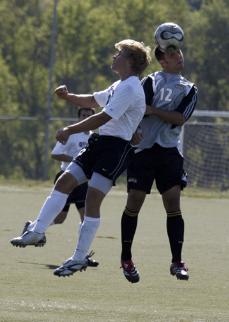 Tim Downer
The Northern Kentucky University Men's Soccer team remains undefeated after beating fellow Great Lakes Valley Conference team Missouri S'T 3-1 Sept. 21.
NKU junior Mike Jonca scored the first goal for the Norse (7-0, 3-0 GLVC), and his first of the season, in the 20th minute of the game after a foul by Missouri S'T (3-4-1, 2-1-1 GLVC) outside the 18-yard box resulted in a free kick opportunity.
Missouri S'T responded in the 24th minute when Nick Mentesana netted his first goal of the season, the Miners' first of the night, to tie the game at 1-1.
The Norse alone saw offensive success in the second half of play, starting in the 60th minute of the game, when a throw-in by Anthony Meyer resulted in Steven Beattie's ninth mark of the season, giving NKU a 2-1 lead.
Freshman Alex Oeswein added the Norse's final goal of the night with an assist from fellow freshman Zach Roesch in the 78th minute of the game; the goal was Oesweins' first of the season.
Norse sophomore goal keeper Michael Lavric played all 90 minutes of the game, acquiring three saves and allowing one goal.
The top-ranked Norse will travel to face Drury Sept. 26 and are scheduled to play Rockhurst on the road Sept. 28. NKU will host Saint Joseph's at 2:30 p.m. Oct. 5 at Town ' Country Sports Complex.
Click Here for the Division II National Rankings.