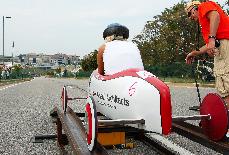 Nancy Bhola
The inaugural HealthPoint Hopebox Derby was a big success as it was the first time the event was held at Northern Kentucky University on Sept. 20.
The Derby was created to raise money for the homeless. Proceeds from the event went to the Pike Street Clinic in Covington, which is operated by Health Point Family Care.
The Pike Street Clinic, established in 1989, is a walk-in health clinic that provides free medical care to the homeless. In 2007 there were more than 2,400 visits made to the clinic by homeless patients.
Shannan Boyer, of HealthPoint Family Care said, "Each class to go through Leadership Northern Kentucky selects a class project. HealthPoint Family Care was looking for a unique event that they could continue and grow over the years.
"To our knowledge, there was not another event of this kind on the Northern Kentucky side of the river and we all thought it would be a great, family-friendly way to raise money for the Pike Street Clinic."
Sponsors from throughout northern Kentucky came out to support the event, including, Chas Seligman Dist. Co., Distributor of Monster, Duke Energy, Hofbr