Grant will create scholarships, jobs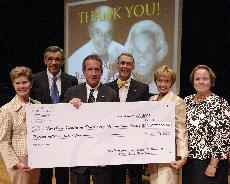 Anna Dale Pyles
,
James Votruba
,
Tim Maloney
,
John Beehler
,
Gail Wells
,
Leslie Maloney
held the $15 million grant at the Fall Convocation Aug. 22.
He called all over campus. Nobody knew how to do it. He and the staff spent hours thoroughly researching the subject. Then came the painstaking practice attempts.
After he'd spent the better part of a day on the project, at last, it was complete.
College of Business Dean John M. Beehler finally managed to tie a bow tie around his neck.
The actions of a bank teller many years ago that led Beehler to frantically learn how to tie a bow tie in 2008. That teller, Ralph V. Haile, Jr., grew exasperated with his long tie continually catching in his cashier's drawer. So he took up the habit of wearing a bow tie instead. In honor of Haile, Beeler wore a yellow bow tie that the bank teller once owned as he accepted a $15 million gift from the Carol Ann and Ralph V. Haile, Jr./US Bank Foundation on behalf of the Northern Kentucky University College of Business.
Thankfully, Beehler has more experience dealing with money than with bow ties.
"It's going to move us to the next level," Beehler said, "because it will help us to attract the best faculty, the best students and the best leaders." He called the gift a vote of confidence in NKU.
"It confirms the fact that the College of Business is already a quality academic program recognized by students in the classroom, employers in the region and the most prestigious of all business accreditation programs, the AACSB (The Association to Advance Collegiate Schools of Business) International," said Dr. Gary E. Clayton, Department Chair of Economics and Finance. "Had we not already reached this level of achievement it would have been much more difficult to attract any endowment, let alone one of this magnitude."
Fourteen of the $15 million will be paid over a five-year period beginning in 2008. As the money is given to the NKU Foundation, Inc., it must be invested. NKU can spend only the interest from invested amount, Beehler said.
Beehler estimates the income on $14 million to be about $500,000 a year.
One million will be spent right away. A student investment fund will receive $500,000. Finance majors will use the fund to gain experience investing money and try to gain the highest return.
Right now there is a small amount of money in the student investment fund and the students' investments have consistently beat the Standard ' Poor's 500 performance, Beehler said. The $500,000 gift could potentially double. "This will be a real benefit to our finance program because the students are actually going to have to make some tough decisions," Beehler said.
A start-up fund will receive the other $500,000 so that the college can start working on fulfilling the gift's purposes right away. "This year we'll be able to spend some of that," Beehler said.
The $14 million will be divided up among the different projects, with each project relying on the interest of the money for funding. Two million will support the College of Business Dean Leadership Chair, $4.5 million will be used to create three endowed faculty chairs , $2 million will support faculty development and $5.5 million will go for student scholarships, fellowship and international educational experiences.
Supporting a leadership chair includes paying part of the Dean's salary and giving the Dean the new prestigious title of endowed chair.
It sends a message. "The best business schools have a lot of endowed chairs," Beehler said. "It tells you have some of the best scholars in the field."
The other part of the leadership money will be used for special projects, like developing new programs.
Branding the business school is something Beehler said they will do.
"We want to develop a logo and an advertising campaign for the business school," Beehler said.
Three endowed faculty members will be added. "It will attract faculty with national reputations for excellence and, of course, will further enhance NKU's reputation," Clayton said.
The faculty development fund will be used to support research, travel to conferences and seminars and for study abroad, outreach and development of international connections. It may also be used to award faculty for top performance, Beehler said.
"One thing the donor was real big on was for us to internationalize the student body, faculty and the campus," Beehler said.
"The gift will help us achieve our goal of enriching the student experience by internationalizing the college," Tracey Sigler, chair of the Department of Management, said.
The student fund will support students in international study programs. It will also be used to give fellowships to graduate students and to create graduate assistantships for faculty and staff support.
The student support fund's main purpose will be to grant scholarships. "I would like to have a high-profile scholarship competition," Beehler said, "so that we attract some of the best students. Over time, the student body would get better and better because we're giving out these scholarships."
The gift provides money for items currently paid out of operating funds, in turn freeing operating funds for other purposes.
None of the money will fund a new building. The donor did work with us to get $1.5 million dollars approved for planning a new business building, Beehler said. "We have to begin planning for it within 12 months of the gift."
Beehler stressed that planning money always leads to the approval of a new building.
"I think typically it takes three to five years to get a building built," he said.
Sean P. Foley, Ph.D. and construction management department chair, said, "As for the new building, it is my hope that the construction management students, alumni and faculty will be intimately involved in its planning, design and construction."
"We're very pleased to have the Haile name," Beehler said. "Ralph Haile was an outstanding citizen who really cared about the development of this community."