Volleyball slams Rangers
Hang on for a minute...we're trying to find some more stories you might like.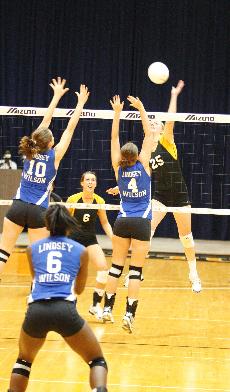 Tim Downer
The Norse came out strong as they played Wisconsin-Parkside on Sept. 12th. Northern Kentucky University swept the game in three sets with the scores being 25-14, 25-22, and 27-25.
Senior right-side hitter Kristina Eisenmenger led the game for the Norse with 13 kills and 26 total attempts while sophomore middle-hitter Kim Nemcek had eight kills and 14 total attempts. Senior right-side hitter Kelsey Wesaw had seven kills and 14 total attempts at the net that night for the Norse.
It was all a different story Sept. 13 as NKU faced two-time defending Great Lakes Valley Conference Champion Lewis University and lost in three sets, 26-24, 25-19, and 25-23.
Freshman outside-hitter Noelle Peterson and Wesaw each had 10 kills during the game. Peterson had 19 total attempts and Wesaw had 25.
Eisenmenger and Nemcek both had seven kills each with Eisenmenger having 23 total attempts and Nemcek had 18.
The Norse will look to bounce back as they face Saint Joseph's at 7 p.m. Sept. 16 and Indianapolis at 3 p.m. Sept. 20. Both games are at Regents Hall.
Click Here for stats on the NKU/UW-Parkside game.
Click Here for stats on the NKU/Lewis game.