To kill or not to kill
Tim Owens
September 17, 2008
Filed under News
Hang on for a minute...we're trying to find some more stories you might like.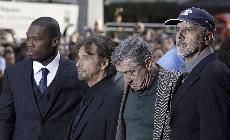 Associated Press
After spending over a decade acting in sub-par "paycheck" films, Robert De Niro and Al Pacino finally work for their money.
"Righteous Kill" follows Turk (De Niro) and Rooster (Pacino), two veteran cops investigating a series of murders that may or may not be connected to a case they thought they solved years ago. Although the marketing of "Kill" is being geared towards the reunion of two cinema giants (Their only other collaboration was "Heat" than the actual movie itself, they are not the only stars of the film.
After directing the 2007 flop "88 Minutes" (which also starred Pacino) and several episodes of sub-par TV shows, Jon Avnet finally proves he can play in the big leagues. He brings the gritty, down to earth tone the film's subject material requires. Scribe Russell Gewirtz gives "Kill" the same intrigue and sharp dialogue he brought to the 2006 Spike Lee joint "Inside Man." But like Inside "Man", Gewirtz puts all his efforts into the framework of the film and not enough into the development of his characters. It's a shame that not enough depth is given to Rooster and Turk. If the writing allowed them, Pacino and De Niro could bring these characters to their full potential. Instead, their restricted to selling the movie with their illustrious names and r'eacute;sum'eacute;'s. That being said, for the first time in years, Pacino and De Niro do actually look like their trying to act. They bring back some of the intensity and flair from their glory days. It's easy to see they get a high playing off one another in the film; and it's fun to watch. A fellow cop in the film says, "They're like Lennon and McCartney," which is not only true of the characters they portray, but also of Pacino and De Niro in real life. In a lot of ways they're the same, but they're just enough different to tell apart. Alone, Pacino and De Niro are great artists, but it's also great to watch them work together. Even though Pacino and De Niro do enough to rise above the lazy acting they have been accused of in recent years, the two vets still look tired. Which not only represents the state of their fading careers, but also the films flat, anti-climactic finale. Grade: C+ Cast: Robert De Niro, Al Pacino, Donnie Wahlberg, John Leguizamo, Carla Gugino, Curtis "50 Cent" Jackson Director: John Avnet Running Time: 1 Hour 40 Minutes MPAA Rating: R for violence, pervasive language, some sexuality and brief drug use. Sources: righteouskill-themovie.com