Neb. wrestlers in middle of gay porn scandal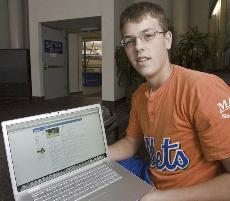 Nati Harnik, Associated Press
Nebraska athletic director Tom Osborne remembers the days when about the only way a student-athlete could embarrass his or her school was to end up in jail.
Now, Osborne and other leaders in college sports have to worry about potential embarrassment when their athletes end up on the Internet.
"With YouTube and MySpace and all this now," the 71-year-old Osborne said, "it appears to be an issue."
It is, in fact, a major issue that some schools have been slow to address, said Sam McQuade, a professor at the Rochester Institute of Technology who specializes in cybercrime and technology issues.
"Since the onset of the World Wide Web, essentially beginning in 1994, youth have grown up not knowing a world without the Net," McQuade said. "And they generally have never been actively monitored, so they don't know how to behave in ways that are appropriate to larger society.
In the wake of two Nebraska wrestlers appearing on a pornographic Web site, Osborne said Nebraska would join athletic departments across the nation in more monitoring of athletes' use of cyberspace.
The situation for the two Nebraska wrestlers, were dismissed from the team, points to the larger issue: the use of social networking sites such as MySpace and Facebook.
Osborne said he'll talk to the more than 500 Nebraska athletes this Thursday about being careful with their Internet posts. He'll also tell them that the athletic department will be monitoring social networking sites.
"We won't turn our heads if we see something inappropriate," Osborne said.
Many schools address Internet policies in their student-athlete handbooks. Nebraska's does not, but there is a general warning about avoiding activity that could cause embarrassment.
Earlier this year, a University of Iowa athletics board approved guidelines allowing school administrators to check players' sites on public networking Web sites, such as Facebook and MySpace. The move came after Facebook photos surfaced showing a number of Iowa football players who are no longer with the team. The players were holding cash and liquor bottles.
John Lata has consulted with schools across the country about setting up programs for policing the Web. He estimated that 9 out of 10 athletes have social network profiles.
A random check of Nebraska athletes' profiles by The Associated Press revealed pictures of athletes partially undressed and party photos as well as comments about sexual activity, racial slurs and criticism of coaches.
At Creighton University in Omaha, athletes are required to read and sign an "Internet ethics" policy that cautions them to be careful about what they post online and warns them that the athletic department will be watching.
"If, in my opinion, I see anything that affects them, the team, the athletic department or the university in a negative way, I'll handle it any way I see fit," Creighton athletic director Bruce Rasmussen said.
Refusal to take down inappropriate material could range from suspension to dismissal, Rasmussen said.
"A lot of times they're surprised when they realize I can get to some of the stuff they thought only their friends could see," Lata said. "It's a real eye-opener for them. I ask, 'Would you want your coaches or parents or other family members to see that?'"
One of the difficulties in monitoring social networking sites is that a profile under an athlete's name could have been created by someone else. All that's required is an e-mail address to create a profile, and pictures of athletes are readily available on the Web.
"One student-athlete we checked on had some stuff on a Web site attributed to him that was somewhat beyond the pale," Osborne said. "We want to make sure people understand that we'll bear responsibility for what someone really puts up there. But there may be information that is not authentic, done by somebody else."
Lata said he has nothing against MySpace and Facebook if used appropriately. He said such sites can be good and positive ways for people of all ages to socialize.
Lata said athletic departments' priority should be to help athletes spare themselves and their families embarrassment. The harm isn't always immediate. He points out that potential employers look at social network sites to help them screen job applicants.
Lata said he also wants to make sure the image of the university and athletic department are protected. School logos, after all, often are visible on athletes' profiles.
Nebraska quarterback Joe Ganz said he doesn't have a MySpace or Facebook page, though there is a profile listed under his name that hasn't been active since 2005. He said it's not worth the time or risk to have one.
"You could have something meant for a joke for somebody, and someone else could see it and get the wrong idea about who you are as a person, not realizing it's for fun," Ganz said. "Guys need to be smart with it."