Blown away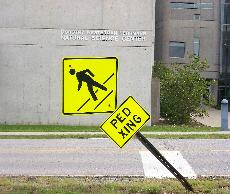 The remains of Hurricane Ike smashed the tri-state with winds up to 80 mph, ripping trees out of the ground and tearing the roof off a hangar at the Greater Cincinnati/Northern Kentucky Airport.
The Associated Press reported that Hurricane Ike delivered hurricane-force winds to Ohio, temporarily shutting down Cincinnati's main airport during the weekend.
More than 1.1 million households and businesses had no electricity Monday morning in just Ohio and Northern Kentucky, Duke Energy and American Electric Power reported, and authorities said it could take a week for power to be restored in some areas.
It was the biggest outage in the company's history, said Duke Energy spokeswoman Kathy Meinke. "We've never seen anything like this in early fall," AEP spokesman Jeff Rennie said.
Director of Communications Chris Cole said the power went out at about 2 p.m. at Northern Kentucky University and lasted until about 8 p.m. Sunday. Still, NKU cancelled classes for Sept. 15.
"There was a decision to close out of consideration for the students and staff (dealing with power outages)," Cole said.
He added that the university decided to have class Sept. 16 after a number of homes' power was restored.
However, Cole noted there was no way to stay closed until every home in the area had power. Once University Housing Director Pete Trentacoste had heard the news, he was calling his staff to see how long it would take to get power back on and how much it might cost.
He added that in any crisis housing would create a plan on how to handle the situation.
Trentacoste said this incident is something that housing will definitely be evaluating for future events, though "every situation is different."
"We need to think about what might happen (in the future)," Trentacoste said.
Overall, the Trentacoste said the damages afflicted to housing were nothing serious: a number of roofs were affected, the outer coating of Kentucky Hall came off and some gutters and roofs were taken off of Norse Hall.
Trentacoste added, "some students are still without cable