Lady Norse defeats Findlay 5-1, improve to 3-0 on the season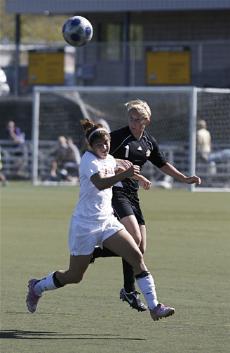 Tom Miller
The Northern Kentucky University Women's Soccer team defeated the Findlay Oilers 5-1 Sept. 7. The Norse are now 3-0 to start the season, for the first time since 2002.
"I think our early success is amazing for us," Kelly Snead, a freshman defender, said. "I think starting off on a good note and winning games is a great way for a team to start."
"To be honest, I was nervous because we have so many incoming freshmen. But the team has great chemistry and we all get along great on and off the field. I think the rest of the season should go very well."
The Norse scored three goals in the first half of the game. Freshman midfielder Amanda Mason scored the opening goal at 15:34.
At 23:43, sophomore forward Kendall Day scored to make it 2-0 Norse. Findlay scored on its own goal to make it 3-0 just before the end of the half.
A scary moment occured in the first half when freshman midfielder Samantha Sutkamp went down with an ankle injury. She was assisted off the field and is taking a day-to-day approach.
Findlay head coach Andy Smyth was not happy with the way his team played Sunday evening. "We played well the first, but we shouldn't have let in those easy goals. We didn't keep the pressure on them."
In the second half the Norse continued to dominate, but Findlay was able to sneak a ball past freshman goalkeeper Stephanie Glass. Kara Costello scored the fourth goal for NKU with assists from Amanda Mason and Kelly Sullivan. Sullivan also capped off the scoring off a pass from Kelly Snead.
"I think the team played really well on Sunday," Snead said. "There are some things we need to work on and need to improve, but over all I think we played very well.
"We can't complain with a win, and all the goals that were put into the net. I really do think we have a good team and over time we're going to get a lot better."
Head coach Bob Sheehan made sure to play all of his team. Pulling starter goalkeeper Angela Healy midway through the second half, and replacing her with Stephanie Glass.
"We have a very young team and we are still trying to find out each others strengths and weaknesses," Coach Sheehan said.
The Norse head to the road to play Wisconsin-Parkside at 4:30 p.m. Sept. 12.
Click Here for stats on the NKU/Findlay game.