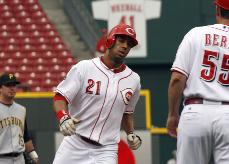 David Kohl, Associated Press
Rookies Brandon Moss and Andy LaRoche hit back-to-back home runs to help the Pittburgh Pirates snap a 10-game losing streak with a 3-2 win over the Cincinnati Reds on Tuesday night.
Moss and LaRoche were both acquired in a three-way trade on July 31 that sent left fielder Manny Ramirez from the Red Sox to the Dodgers and left fielder Jason Bay from the Pirates to Boston.
Moss, sent to the Pirates from the Red Sox, had a career-high three hits.
The homers helped right-hander Ian Snell win for the second time in three starts. Snell (6-10) lasted six innings, giving up seven hits and two runs – one earned. He struck out five.
Matt Capps pitched a perfect ninth for his 18th save in 23 opportunities.
Chris Dickerson gave Cincinnati a 1-0 lead in the first inning with his fifth homer of the season and second leading off a game for the Reds.
Moss hit his sixth home run since joining the Pirates in the second, and LaRoche followed with his fifth overall to give Pittsburgh a 2-1 lead.
The home runs were the 30th and 31st homers allowed by Cincinnati starter Aaron Harang, who trails only Houston's Brandon Backe in the National League.
Jay Bruce led off the second with a single, stole second and moved to third on catcher Ryan Doumit's throwing error as Ryan Hanigan was striking out. Bruce scored on Corey Patterson's soft lined single to right field.
The Pirates regained the lead in the third on Snell's leadoff walk, Nyjer Morgan's double and Nate McLouth's RBI groundout.
That was it in terms of scoring.
Harang (4-15) allowed five hits and three runs with two walks and four strikeouts in six innings.
Adam LaRoche came close to hitting Pittsburgh's third homer of the night in the sixth, but Patterson went back to the center field wall, leaped, reached above the fence and pulled LaRoche's drive back into the ballpark.