Men romp Golden Eagles 9-0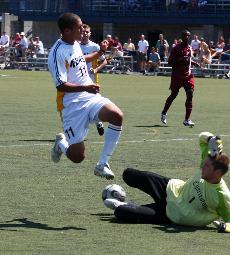 Tim Downer
The Northern Kentucky University men's soccer team opened their regular season home schedule in dramatic fashion, defeating Charleston (W. Va.) by a score of 9-0 on Aug. 31.
NKU outshot Charleston by a 29-6 margin and were led by sophomore Steven Beattie, who scored three goals in the Norse's lopsided victory.
"We felt really confident going into the game today, but we didn't expect a margin like that," Beattie admitted. "I would've taken a score of 1-0, a win's a win."
Beattie, who leads the Norse with four goals on the season, scored the first two points of the game within minutes of each other, scoring unassisted off a loose ball in the 22nd minute and again off a free kick in the 25th minute. He later converted a penalty kick in the 59th minute of the game to complete his hat trick.
"I had a good day, and I was happy to be able to lead the team," Beattie said. "But I don't care who scores the goals though, as long as we're doing things right and winning games."
Five other NKU players contributed to the 9-0 margin and scored goals as the Norse shut out the Golden Eagles.
Zach Roesch contributed two goals to the Norse, scoring once in each period, and Anthony Meyer, Kevin Donnelly, Tommy Barrick, and Stephen O'Brien each added one goal.
Only 13 minutes passed after Beattie's goal in the 25th minute before the Norse continued their scoring spree and eventually tripled their lead over the Golden Eagles, scoring four additional goals in the last seven minutes of the first period.
Meyer scored a goal in the 38th minute off an assist by Kevin Donnelly, and Roesch converted a penalty kick to score his first goal of the night in the 41st minute.
Donnelly added a goal of his own, less than 90 seconds after Roesch's mark, and in the 43rd minute, Barrack scored off an assist by Donnelly and Meyer to end the first period with a 6-0 Norse lead.
Sophomore Goal Keeper Michael Lavric played the entire first period and captured two saves.
NKU's other goal keepers, Keith Kelly and Mark Angelo, split playing time in the second period, playing 25 minutes and 20 minutes respectively, and the Norse offense was quick to pick up their first period scoring success right where they left off.
O'Brien, a sophomore transfer, scored his goal in the 48th minute with a shot from 10 yards, Beattie clinched his hat trick with a goal in the 59th minute, and Roesch recorded his second goal of the night in the 82nd minute off an assist from Jim Delaney.
The fifth ranked Norse will host Carson-Newman at Town ' Country Sports Complex on Sept. 5 at 7:30 p.m.
Click Here for stats on the game.