Kober humors the audience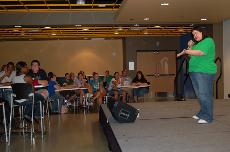 Nancy Bhola
"If momma needs a biscuit, you don't wanna' risk it," is Comedian Jen Kober's message to anyone who decides to turn down the air conditioner on a hot Southern California day.
Kober is originally from Lake Charles, Louisiana, she got her start at open mic night in a bar in New Orleans when she was 16 years old.
"I wasn't old enough to get in, and I knew it," Kober said. "but my friends convinced me to sneak out, lie about my age and show the croud what I got."
Although she won the crowd over at her first gig, the ones that followed weren't quite as successful.
"At first I sucked. I had no life experiences, and nothing to base my comedy on besides stupid high school things like algebra or school lunches," Kober said. "Then one night I was performing at this bar and a man told me I needed to stop telling jokes that everyone on the street knows, I need to tell my own stuff."
When she was young, Kober had a difficult time doing so, but her parents helped her out be getting her professional coaches.
"After I realized what I needed to do, my parents sent me to a bunch of summer camps and various comedy workshops in Chicago and other locations across the country," Kober said.
Kober attended The Theater School of DePaul University in Chicago, Illinois, and also studied at Improv Olympic and Second City in Chicago.
"After college I toured with two improv shows called "Junk in My Trunk" and "My Big Fat Comedy Show," Kober said.
Kober has also opened for many famous comics such as Dave Chappelle and has appeared on TBS's "Comics Unleashed" stand up comedy show. Now Kober is working to get her own sitcom aired.
"The show is called "Big Dish," it's a parody of a cooking show, kind of a Rachel Ray meets Roseanne type of thing," Kober said. "I'm going to pitch the show to The Food Network on Sept. 22 and to Bravo on the 29. Hopefully they air the show so I don't have to put it into syndication. I'm a Jew, and I like to save money wherever I can."
Kober also tours at colleges, casinos and comedy clubs all across the country. When Executive Director of the Activities Programming board Kanita House saw her, she knew immediately that the students would love her.
"I saw her at a showcase of campus acts this summer and knew she would be perfect," House said.
Even though Kober wasn't booked until last night, she arrived in Highland Heights a little earlier than expected.
"She was planning on flying in the day before, but the hurricane changed her plans around a little bit," House said. "She drove three days from Louisiana to NKU to evacuate."
Now, Highland Heights is no New Orleans, but Kober found things to occupy her time.
"When I got here I asked someone what there was to do around here, and he said 'We got a white castle,'" Kober said. "I said to him 'Great, that's exactly what I need!' I tried to find a darn Starbucks, but of course there was none to be found until I got here [NKU]."
As far as her show went, students who attended were thoroughly impressed.
"I think she gave a good social satire on America's view on popular culture and the views of fat and skinny people," said Landon Hoffman, freshman art major.