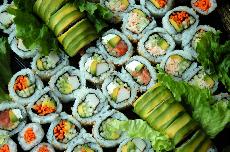 Nancy Bhola
The new Student Union is equipped with many new and innovative features, but none of these features generate near the excitement like the new food court has. The food court, managed by Northern Fare, offers a variety of food that is sure to satisfy any craving a student may have.
Best selection
Students looking for a large selection of breads, meats, toppings and sides should turn to Mondo Subs. Not only does it offer traditional white bread, its selection ranges from poppy seed to herb parmesan as well.
But the variation does not stop there. Mondo Subs offers so many selections of subs, including roast beef, buffalo chicken and very veggie, that you may need a few minutes to think your decision over. If you're still hungry, Mondo Subs offers an assortment of sides, including penne pasta salad and warm chippers in flavors such as southwest and Chesapeake Bay.
Best nutirition
Olo Sushi takes pride in offering students a healthy meal and even posts their nutritional information for all to see.
Sushi is full of protein and nutrients, but lower in fat than most meals. The California roll, which includes imitation crab, avocado, cucumber and sesame seeds, has only 46 calories from fat. Olo Sushi also offers low-calorie salads and condiments. Fresh sushi is certainly a healthy alternative for all students.
Best Price
While selection and nutrition are important factors in determining your meal for the day, struggling college students can't help but think about price. The restaurant that will give you the most food for your dollar is Coyote Jack's Grill.
They offer Coyote Jack Combos, which include an entr'eacute;e item, such as a quarter-pound cheeseburger, an order of fries, and a 24-ounce drink for only $5.79. This grill also serves healthy salads, such as the Caesar salad, which is only $3.29 and even offers breakfast items. Coyote Jack's menu also features chicken breast sandwiches and a variety of dipping sauces.
A great thing about this new student union is the free unlimited refills, which are guaranteed to save students money.
But the most rewarding thing the new food court has to offer is a place for students to come together and enjoy a great and reasonably priced meal.