Depth is key for Lady Norse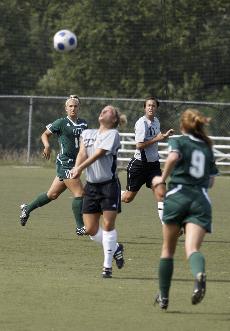 Tim Downer, Photographer
With school just getting started, so are fall sports. The Northern Kentucky University Women's Soccer Team is preparing for another great season, if not better than last year's. With a record of 12-6 and 8-5 in GLVC (Great Lakes Valley Conference) play in 2007, NKU is looking to bring home the championship this year.
Head Coach Bob Sheehan has a record of 184-43-13 in 11 seasons and is in his 12th season coaching at NKU. The seniors on the team this year are Amie Noll, Lauren Franzen, and Angela Healy. Sheehan also is bringing in a large group of freshmen to add to his team. All together, NKU has twenty-four strong players this year and look to be tough.
"We've had a tough run of luck with injuries, just the things that happen over the course of a season," Sheehan said, according to NKU Athletics Website. "That's why we felt it was important to bolster our roster."
In a GLVC preseason coaches poll, NKU was picked to finish third in the conference this year and faces a tough schedule, playing teams such as Quincy and Drury, both voted to be the top two teams in the GLVC.
The Norse have captured six GLVC titles in their last nine seasons, five of which were snatched in consecutive years from 1998-2002.
NKU's season opened with a 2-1 exhibition win over Ohio University Aug. 24.
The team travels to West Virginia on Aug. 29 to take on Concord at 6 p.m., and their first home game will be at 6 p.m., Sept. 7 against Findlay at the Town ' Country Sports Complex.
Click Here for the NKU Women's Soccer page for more information.