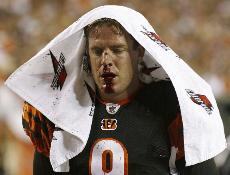 Associated Press
Quarterback Carson Palmer will skip Cincinnati's last preseason game, resting his broken nose while running back Rudi Johnson makes his first – and what he thinks could be his last – appearance in a Bengals uniform.
Palmer didn't participate in practice again Tuesday, watching while the rest of the team got ready for its game Thursday night in Indianapolis. Palmer broke his nose and cut his lip on a sack Saturday night during a 13-0 loss to New Orleans.
Palmer said he probably would have sat out the final preseason game even if he hadn't broken his nose. He expects to be ready for the opener at Baltimore.
"I mean, I'm healthy, I could play, (it's) just not in the cards this week, I think mainly because we played Saturday and turn around and play again on Thursday," said Palmer, who had a protective brace on his nose and packing in his left nostril. "I just want to be 100 percent and healthy and feeling great going into the Baltimore game."
Johnson and Pro Bowl receiver T.J. Houshmandzadeh have missed most of training camp and the first three preseason games because of hamstring injuries, but are expected to play against the Colts. Coach Marvin Lewis hasn't decided how long they'll be in the game.
After hearing an ESPN report that the Bengals were interested in trading him for a receiver, Johnson called his agent and had an inkling that he would be moving on.
"I could be gone any minute now," the running back said after practice. "I'm just waiting on the call, looking at the clock. That's all. So you know, it is what it is. Nothing's surprising.
"It's always something every year. They've been trying to get me out of here for a long time now. So it's not surprising at all."
It's not so clear-cut that he'll be gone.
Johnson became the team's starting tailback in 2004, taking over for Corey Dillon. He ran for a club-record 1,458 yards in 2005 and for 1,309 the next year. Hamstring problems limited him to nine starts and a 2.9-yard average last season, when he lost weight to try to increase his speed.
He bulked up in the offseason, hoping to become more of a power back again, but the continuing hamstring problems raise questions about his durability. While Johnson was sidelined in the preseason, Chris Perry – the Bengals' first-round pick in 2004 – showed that he's fully recovered from injuries that limited him to one start in the last two years.
That makes Johnson expendable. With Chad Johnson hampered by an injured left shoulder, the Bengals could use another receiver. The trick is finding a team interested in giving up a receiver for a running back who hasn't played a down in the preseason.
Rudi Johnson's agent, Peter Schaffer, didn't return a phone message on Tuesday. The running back said he had been in contact with him about where things stand.
"He's just been communicating back and forth," Johnson said. "We'll see what happens."
Houshmandzadeh said his hamstring felt good after his first back-to-back practices.
"My body is saying that I'm fine," Houshmandzadeh said. "I knew that, but I just had to make sure of it. I felt good. I knew I would, but there is always doubt with something like that."