Alumni artists on display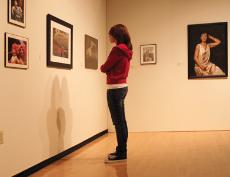 Nancy Bhola
Many alumni leave their marks on campus in one form or another.
But on Aug. 25, 27 Northern Kentucky University graduates' left a new mark on campus. That's because their works of art were put on display for the campus community to see.
From 50 pairs of wood squares marred by firecrackers to a pixilated quilt and even a series of wood paintings resembling a horror movie, the Northern Kentucky University Alumni Exhibition: 40 years of Alumni Artists is packed with various sculptures, prints, photos and more to celebrate the university's 40-year anniversary.
According to Director of Exhibitions and Collections David Knight, the project began about two years ago, when faculty and staff began considering the approach of NKU's 40th anniversary was approaching.
So, Knight decided to put together an exhibition to showcase alumni who had become successful artists. He mailed out an invitation to graduates, asking them to submit three to five pieces.
That, he said, was the hardest part of the production – tracking down all the alumni.
Though some artists did not submit pieces, Knight said, because "life got in the way," many others did.
Then, last spring the gallery committee chose works based on which pieces would work well in conjunction with the others selected.
From there, the pieces were set up and the gallery opened to the public on the first day of classes.
Austin Brown and Stephanie Mathena, both freshmen majoring in electronic media and broadcasting, said it was "really cool to stumble" upon the gallery.
"I didn't know anything about it," Brown said. Nevertheless, he said he considered it a serendipitous find, saying that it was perfect for anyone interested in art.
"I love it in here – it's so quiet," Mathena said.
They both said they found the contemporary collection beautiful, although not every piece was pleasing.
Mathena said that Benjamin Mattingly's "Old drip," a rusty metal pipe affixed to old, mottled and worn wood, reminded her of a sewer.
For Knight, two pieces caught his attention. First, "Isabella Rubalcava," a patchwork quilt that resembled a heavily pixilated portrait, was one. The tribute to women who have died overseas, he said, intrigued him.
"When you see the reflection on the floor, it actually looks more like a quilt," he said.
He, along with Brown and Mathena, also found Dan Dezarn's "Physical evidence of 100 small events" captivating.
In that work, Dezarn, a 2000 alumnus, took 50 pairs of three-inch white wooden squares and sandwiched a firecracker in between each one. This left each pair with a different scar. While some branch out, like a blackbird in flight, others resemble a black plume of smoke drifting to an edge.
Other works include a sculpture, an astronaut set in a glass box and three paintings on wooden panels with ghostly faces covered in harsh tan and black, resembling something from a Wes Craven movie.
The gallery is open to the public on the third floor of the Fine Arts Building. The first exhibition runs until September 19. A second exhibition opens September 25 and ends October 24. Both galleries are open from 9 a.m to 9 p.m. Monday through Friday.