A 'recap' of summer glory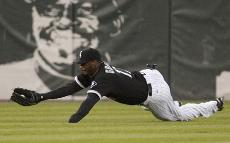 Associated Press
It's late August and that means we're nearly two-thirds of the way through what many sports enthusiasts are regarding as the most exciting year in recent memory.
The past summer has brought a multitude of exciting sporting events that have helped to shape 2008 into exactly that. Here's a look into some of those events.
After being out of competition for two months due to surgery on his knee, Tiger Woods limped through 91 holes of the Torrey Pines golf course in San Diego, to claim his 14th major title.
Through five rounds of play, including a playoff and a sudden-death round, Woods battled Rocco Mediate before Mediate missed his shot for par, allowing Woods to win his third U.S. Open.
Shortly after, it was revealed that Woods played the entire Open with a torn ACL and two stress fractures in his left leg, injuries that have since kept Woods from participating in the remainder of the 2008 PGA tour.
Following that, the college baseball season came to an end in late June – but not before introducing another championship Cinderella story to the world as the Fresno State was crowned champions of the 2008 Division I College World Series.
Fresno State, ranked fourth in its regional conference, faced six elimination games before reaching the College World Series and became the lowest ranked team in NCAA history to win any NCAA championship; its ranking would have been equivalent to 13th, or the worst, seed in the NCAA basketball tournament.
The 2008 College World Series win also represents the first national title Fresno State has won in any NCAA men's sport.
In professional baseball, the Cincinnati Reds saw the end of Ken Griffey Jr. era as he was traded to the Chicago White Sox for relief pitcher Nick Masset and a minor league second baseman. But not until after adding another milestone accomplishment to his r'eacute;sum'eacute;.
Griffey, who was wearing a Cincinnati Reds jersey at the time, achieved a feat that only five other men before him had – he hit home run no. 600, marking the first time in Reds history.
Griffey now claims the title of Major League Baseball's active home run leader and, with 609 career shots, is tied with Sammy Sosa for fifth place.
With September only days away, the start of the MLB post-season as well as both, professional and college, football and basketball regular seasons are just around the corner.
It's hard to even imagine what surprising sports moments 2008 still has to offer. We shall just wait and see.