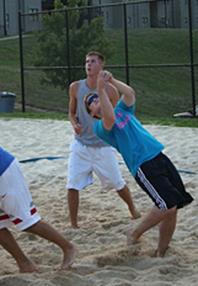 Tori Pohl
The combined efforts of both Campus Recreation and the Activities Programming Board came to fruition Aug. 23 at the annual Welcome Week Rock-N-Jock event. It was an evening filled with music, volleyball and enthusiastic cries of "Hey! They've got free food!"
Rock-N-Jock is an opportunity for students and faculty to meet new people.
"We think students need something to do so they don't hibernate in their rooms," said Hayley North, Co-planner of Rock-N-Jock.
"Last year we had about 15 teams, 350 students," recalled Josh Gruenke, Coordinator of the Office of Student Life and the APB adviser, and co-planner of Rock-N-Jock. He said that this year, that number was closer to 300.
"This was a good turn out in our eyes, since it was 90 degrees and there was a home Bengals game!" North said.
In addition to volleyball, attractions included a corn hole tournament and a plethora of free trinkets up for grabs, including pens, photo key chains and magnets and mini staplers.
And of course, right over at Norse Commons, free food was offered for all who attended the event. Recruiting volleyball players required more than just offers of food and fun. Seniors Steven Robinson, a business-information systems major, and Coleman Benvie, a business major, piled into a golf cart and drove around campus with a bullhorn, inviting all who could hear to head to the sand volleyball courts and get in the game.
Our goal is to make programming something people enjoy," said Kanita House, Executive Director of APB. "It was, overall, a great success."