Softball team finishes disappointing season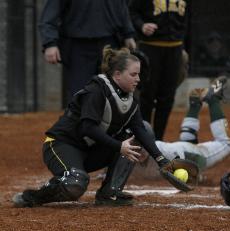 Tom Miller
The season came to an end for the Northern Kentucky University Softball team as it finished with a 9-17 record in the Great Lakes Valley Conference and failed to qualify for the GLVC tournament for the second year in a row.
"We just couldn't seem to get over that "hump," if you will. Some games we did a lot of great things and other games we looked really, really bad. Also, we weren't able to put a complete game together-pitching, defense and offense," NKU Head Coach Kathy Stewart said, summing up her team's season.
Part of the problem this year was pitching. None of the team's pitchers finished with an ERA under 3.00. Freshman April Ehlers struggled to an 8-15 record and a 4.29 ERA and Junior Amanda Smith, who was the most experienced pitcher coming in, finished with just a 6-8 record.
At the plate, four of the team's regular starters finished above a .300 average. Katybeth Coode supplied the long ball, collecting 10 home runs on the year.
"Coode, who was a medical redshirt last year, but an All Region performer her freshman year, had a great year. She broke the single-season home-run record and also did a great job in right-field," Stewart said.
Looking forward, the bright spot for the Norse is that there were no seniors on this year's team. However, the Norse did not graduate any seniors last season after finishing 8-14 in the GLVC, but were unable to improve upon this record in the 2008 campaign.
The Norse did end the season on a positive note by knocking Quincy University out of the GLVC tournament with an extra-innings win in the team's final game. Shatona Campbell was the game's hero, after she singled-in Stephanie West for the winning run in the bottom of the 10th inning.