Smoking shelter resolution passes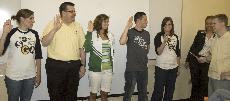 The Student Government Association ended the school year by unanimously passing four resolutions at its meeting April 28, including swearing in the new executive board and senate for the 08-09 school year.
The "All Purpose Grant Resolution" requests $3,000 for the implementation of a grant that would cover the extra costs that, for example, art, nursing and music majors have to pay out of their own pocket.
The idea is to help majors to afford books and supplies.
The resolution does note the grant would be available for all students.
SGA President Alyse Bender noted the amount of money given will vary per student and that "$3,000 can go very far."
She said the process to attain the all purpose grant would be the same as getting a book grant- by an application trial. Bender said she hopes to have applications out by fall 2008.
The "Smoking Shelter Resolution," requests the installation of outdoor smoking shelters on campus. It asks to only install two shelters on different locations around campus.
It stated these shelters would aid in the compliance of the smoking policy since there are many violations such as smokers standing near the entrances of buildings.
The shelters costs approximately between $5,000 and $7,000.
Senator Paul Myers said the resolution sends a message to the administration that the current smoking policy isn't accomplishing what it is meant to do.
The "Meal Plan Resolution," asks the administration to provide more flexibility for meal plans.
It also requests the option of returning students to opt out of purchasing a meal plan.
"The Web site Resolution" asks for an update to the Northern Kentucky University Web site by adding a Spanish translation gradually over time.
The resolution added that Spanish is the second most spoken language in the U.S. and that this translation would be apart of the university's core values and would correspond with Vision 2015.