Rivers Bengals first choice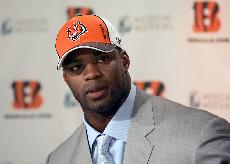 Keith Rivers' number is already taken.
During his impressive career at Southern California, the linebacker wore No. 55 with great pride. The number has been passed from one prominent USC linebacker to another, part of an ongoing tradition.
The first-round draft pick got a Cincinnati Bengals jersey with a ceremonial No. 1 on Sunday. When he gets his real number, it will be something other than 55.
"Ahmad has that one," Rivers said, referring to linebacker Ahmad Brooks.
Instead, Rivers will be trying to start a new tradition in Cincinnati while wearing a new number.
The Bengals made another attempt to find a cornerstone linebacker by taking Rivers with the ninth overall pick in the draft on Saturday. He got on a 5 a.m. flight to Cincinnati on Sunday for his first visit to his new home.
He already knew some of the history.
The Bengals thought they had a linebacker they could build around – two, actually – when they took David Pollack and Odell Thurman in the first two rounds of the 2005 draft. Pollack broke his neck and is about to retire; Thurman is coming off a two-year suspension from the league.
Try again.
"He brings leadership," coach Marvin Lewis said. "As I told him when I talked to him in Indianapolis (at the NFL combine) and again this morning, he's got to have those big shoulders to carry."
He's used to it.
At Southern California, he accepted the honor and the responsibility of wearing No. 55, which has been handed down from Junior Seau to Willie McGinest to Chris Claiborne to Rivers. He found it more of an inspiration than a burden.
"When I had the (number 55), whenever you have a day at practice and you were like, 'Oh, man,' you look at your number and the legacy behind it," Rivers said. "You kind of get used to it. Say you have a day where it's going to be a long day. You have to think of what you're picked for."
McGinest sent him a text message on Sunday – one of about 100 that Rivers got after he was picked – to congratulate him and celebrate Southern California's prominence in the draft. The Bengals were leaning toward USC defensive tackle Sedric Ellis, but the Saints traded up to snatch him away.
So, the Bengals went for his teammate. They're not sure which linebacker position Rivers will play at the outset. He played all three in college. Part of the process will be sorting out where Thurman and Brooks fit best.
Rivers isn't shy about assuming a leadership role, though he'll be careful how he goes about it.
"I think as a rookie, you kind of want to be seen, not heard," he said. "Being seen, not heard can make you a leader, by showing your work ethic – working hard, staying late, watching your film, and doing whatever it takes to be a great player."