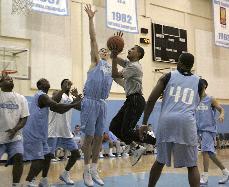 For all his basketball skills, Barack Obama was out of his league.
The Democratic presidential candidate played hoops with the University of North Carolina team on April 29. The Final Four squad cut the 46-year-old some slack.
"These guys move very fast," puffed Obama, as he raced up and down the court with the much younger and much bigger college players, many of whom dwarfed the 6-foot-2 Obama.
The Illinois senator is a workout enthusiast and basketball is his chosen game. He decided to open his day with the Tar Heels, including star Tyler Hansbrough, a 6-foot-9 All-American who spent part of his morning guarding Obama.
At one point, Obama slipped past Hansbrough for a layup, which rimmed out. Ever the realist, Obama recognized what had happened.
"Hansbrough went easy on me," Obama said. "I thought I had it."
Obama often plays pickup basketball games with local backers. He toured the Tar Heel sports complex with Coach Roy Williams, and conceded he had moved up a notch.
"Let me tell you, these guys are big and fast," said Obama, catching his breath on the sidelines. In his March NCAA tournament picks, Obama selected North Carolina, but the Tar Heels lost to eventual champion Kansas in the semifinals.
Though the players, who were relishing banging on each other, gave Obama his shots, he was unable to score. At one point he dished off a nifty, behind the back pass that nearly set up an assist.
Neither side kept score.