Kentucky Writer's Day, seven hour celebration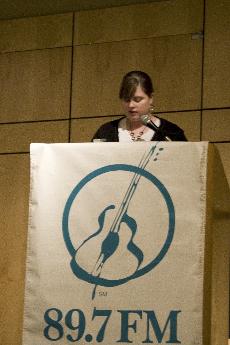 Northern Kentucky University celebrated Kentucky Writer's Day, sponsored by the Kentucky Arts Council, April 24 in the Otto M. Budig Theater with seven hours of poetry reading. Entitled "Turning Pages," the event included readings by several Affrilachian authors.
Frank X Walker, a faculty member of the Literature and Language department, coordinated the event and booked all of the readers and special guests. He also coined the term Affrilachian, referring to black writers who come from Appalachia.
Around 30 student poets read their work and recited published work.
"I'm immensely proud of the students," Walker said. "The pressure of the event made them raise their performance up a notch."
Poets from Eastern Kentucky University, Maysville Community and Technical College and Spalding College also made their way to NKU to participate.
Walker invited Ricardo Nazario Colon, a founding member of the Affrilachian Poets who read four of his pieces at the event.
His poems centered on the strained relationship between the Latino and black communities. He said he wants to help ease tensions between the two groups.
"Every time (I read) I get an opportunity to tell them there's no differences," Colon said. "Differences are overstated."
He also read "Morena," the Spanish word for people of color, which he described as an "exaltation of a black woman" in the 1800s during slavery. Their memories inspire him, he said, because of their will, and creativity, to survive.
Joy Gonzalves, another published poet, used some of his pieces to condemn the Iraq war.
According to Walker, this is the first time the Turning Pages event has taken place at NKU.
The other sponsors for this event included the Student Programming Office, department of literature and language, WNKU, Applebee's, Sigma Tau Delta and the University Press of Kentucky.
Walker is hoping to continue the program next year and to expand it to a 24-hour marathon of poetry.