Board extends partner benefits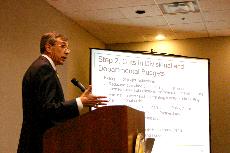 The Board of Regents voted to extend family benefits at its meeting April 28.
The board voted 7-2 to expand the benefits package to incorporate employee health care benefits for domestic partners.
President James Votruba said this expansion is consistent with Vision 2015.
He added that it acknowledges that different people make different choices, even though not everyone agrees with them.
According to Votruba, extended family benefits have been in the works for about a year and are set to be available Jan. 1, 2009.
"This is a great day for Northern Kentucky University