Cronon wins election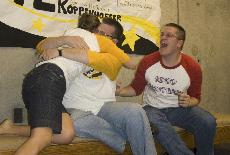 She paced the halls of the University Center. He sat there calmly joking around. But as the time approached, they huddled together waiting for the news to come. She sent her love to her friends in the event she had a heart attack. Then he got the call.
Gabe Cronon, candidate for Student Government Association president and student regent, looked over to his running mate Melissa Koppenhoefer, the candidate for executive vice president and said one word: "Congratulations."
Cronon and Koppenhoefer won by just a 25-vote margin.
Koppenhoefer almost didn't to vote because she lost her All Card and it takes 24 hours for an ISO number to update in the system.
However, she realized she could still vote by paper ballot, as any student can.
"First of all, it's a sense of relief," Cronon said about the victory. "It's a tremendous responsibility to take on, so I can breathe now. But I'm pretty sure in the morning the pressures in being student president and student regent will hit."
Cronon attributed his win not only to his hard work but also to the voice of the students.
"I think I won because I've worked hard at this university for four years and I've done so much," he said. "I chose a great running mate and I took the high road and I truly believe in representing the students."
Cronon credits the victory to the students who voted. He said that this was the students' choice and that they took the initiative to vote.
One of the issues that Cronon plans to address first to amend the SGA constitution. He added that he has already made an ad hoc committee to get the constitution in order.
He said he plans to be a voice of the students, create a better campus and look into expanding the meal plan options.
Cronon's running mate, Koppenhoefer, said she never imagined being in this position.
"It feels amazing. I did not think that I could do this until Gabe asked me to run with him," she said. "It was never a thought of mine and so, to go in without expecting to do this, it feels amazing that our hard work paid off."
She added, "I don't think I've ever worked harder for anything or felt more passionately about something."
Cronon realized he wanted to run for SGA president after the iCare campaign.
Koppenhoefer said the race was a challenge.
"It was a tough race and it was very challenging and, you know, they put up a good fight," Koppenhoefer said about her opponents. "Every vote mattered in this election and every campaign was working to get those votes. So, we all worked hard."
Indeed, every vote did count as Cronon and Koppenhoefer won by only 365 to 340.
Jennifer Corbett, Cassie Stone and Joe Szydlowski contributed to this report.