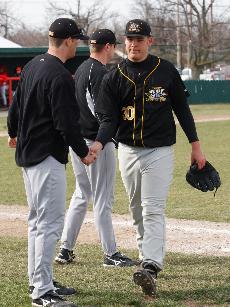 Tim Downer
After winning 13 of its last 14 games, the Northern Kentucky University Baseball team has hit the skids, losing five straight games and dropping to 3rd place in the Great Lakes Valley Conference East Division.
The losing streak started against the No. 25 ranked team in the nation, GLVC West powerhouse Southern Indiana University, April 16.
The Norse jumped into the lead during the first inning by scoring three runs, thanks in part to a two-run triple from NKU's Kevin Dusold.
In the sixth inning, however, NKU relinquished its 4-3 lead by surrendering four runs on five hits, which eventually resulted in an 7-4 loss.
The loss to Southern Indiana sent the Norse and their high-scoring offense into an apparent tailspin, as they then traveled to Bellarmine and were swept in a four-game series, April 19 and 20.
In game one, ordinarily reliable starting pitcher Ryan Schmidt was roughed up for nine runs in just 1 2/3rd innings Schmidt wound up with the loss, his first of the season after NKU failed to recover from the early deficit, losing 11-6.
In game two, the pitching woes continued – this time with starting pitcher Brandon Slusher, who wound up giving up the bulk of the runs in the 8-0 loss.
For the second double-header versus Bellarmine, the pitching improved, but the hitting remained stagnant.
The Norse had their opportunities to win the first game, which went into extra innings, but untimely ground balls leading, to the ending-inning double-plays in each of their two extra frame at-bats.
Bellarmine seized its opportunity with a run in the bottom of the 9th, securing a 3-2 win.
The last game of the set was also a 3-2 loss. The Norse once again had their chances, getting two on with one out in the top of the 6th inning, but could not add a tying run.
Next for the team is a non-conference home game against Wilmington College, April 23, followed by a four-game set versus conference punching bag Wisconsin Parkside (3-29 overall record), April 26 and 27.