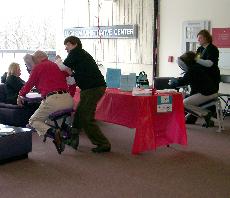 Contributed by NKU Wellness
You've just gotten through three classes, a presentation and a flunked test. Finals are approaching, you've got papers due at the end of the week and your cappuccino machine's broken. How do you relax?
How about a massage between classes?
At Northern Kentucky University, Anne Schuster provides several types of massages to students, faculty and staff, and is even willing to make office calls.
"It's basically a dollar a minute," Schuster said. Her minimum time is 10 minutes.
"Ten to 15 minutes really puts you in that state of relaxation," she said.
Schuster said that she originally discovered her interest in massages when 18, as an undergrad at Notre Dame College in Cleveland, Ohio.
"It was one of the sort of things where you do a shoulder rub for someone at work and they say 'You should do this for a living,'" she said.
Nevertheless, she continued her scholarly pursuits, earning a Masters in business administration from the University of Cincinnati. However, when she and her husband moved to Portland, Oreg., she earned her certification at East-West College of the Healing Arts.
Thus, for the past 11 years, she's been rubbing out stress. After a year in Portland, she returned to her hometown, Cincinnati, and opened up shop. In March of 2007, she said, Karen Campbell, assistant director of University Wellness, brought her to NKU after a friend recommended her.
Most of her NKU clients are staff, though her services are available to anyone here. She even offers packages where she comes to the office and gives everyone the knead they need.
For the one-on-one appointments, Schuster has several options. For the frazzled yet frugal, there is a simple 15-minute chair massage.
"I'll work on their arms, backs, necks, hands and wrists," she said. "If they ask, I'll also do a facial massage or scalp."
Those preferring a tougher massage can get a 50-minute deep-tissue massage for $60.
"It's kind of a 'hurts so good' kind of thing," she said. However, she warned that not everyone is ready for such massages, and alternatives to the deeper exist.
"(The type of massage) is