Lewis to Chad: go ahead and sit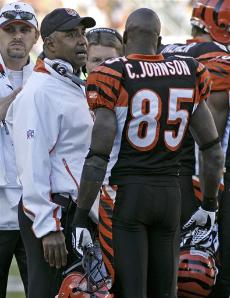 Al Behman
The Bengals are calling Chad Johnson's bluff.
Tired of the receiver's posturing for a trade, coach Marvin Lewis said April 22 that Johnson should keep his word and sit out the season – the strongest comment yet from an organization that is reluctant to let him go.
The Bengals also turned down Washington's offer of two high-round draft picks for Johnson, who had hoped to be traded before the draft this weekend. The move indicated that Johnson will be staying in Cincinnati, like it or not.
Lewis also said linebacker David Pollack is leaning toward retirement. The former first-round-draft-pick broke a bone in his neck while making a tackle during the 2006 season and went through months of difficult healing and rehabilitation.
Pollack's decision isn't a surprise. He has said all along that he doubted he would return if there were a chance he could injure his neck again.
Lewis said he has been disgruntled since the middle of last season, when his look-at-me antics came under criticism.
He became the epitome of Cincinnati's 7-9 season when he sniped at quarterback Carson Palmer during a loss to New England. Johnson ran the wrong route on a pass play, resulting in a game-turning interception. He initially blamed Palmer for the problem.
Since the end of last season, Johnson has been lobbying for a trade even though he agreed to a long-term deal with the Bengals two years ago. Johnson's contract would pay him $3 million next season and extends through 2010, with a club option for 2011.
Although Johnson stopped talking to reporters in Cincinnati, he has done numerous national interviews during which he threatened to sit out the season if he's not traded. Lewis responded Tuesday by saying he should follow through with his threat.
"I've stated our case with Chad," Lewis said. "He has a contract through 2011. He's stated without an opportunity to go to a different team and a new contract, he wasn't going to play. I think he's a man of his word and says he's not going to play, so don't play."
On April 22, Lewis said the Bengals hadn't received a trade offer for Johnson. Later in the day, the club released a statement saying it had turned down an offer from Washington, which was willing to give up its first-round pick and a conditional third-round pick next year.
The club has been consistent in saying it won't trade the Pro Bowl receiver, who became the franchise leader in career catches and yards last season. He caught 93 passes for a team-record 1,440 yards.
Other teams have traded away stars who started becoming divisive. Bengals owner Mike Brown has a history of refusing to give in to player demands. When running back Corey Dillon tried to force the team to trade him in 2003, the Bengals waited until after the season to send him to New England.