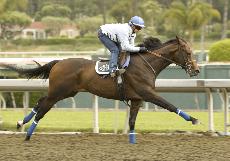 A few fillies could be in, War Pass is out and trainer Todd Pletcher might have three horses for the Kentucky Derby.
Despite a flurry of Derby doings, the final Run to the Roses Top 10 list by The Associated Press didn't change much from a week ago: Unbeaten Florida Derby winner Big Brown remains No. 1, with Santa Anita Derby winner Colonel John at No. 2.
The owners of Proud Spell and Eight Belles are considering their fillies for the Derby and could make their decisions after the Derby post-position draw April 30.
War Pass, the 2-year-old champion who finished second in the Wood Memorial at Aqueduct, has a left front ankle injury and is out until the fall, trainer Nick Zito said.
"It just wasn't meant to be, maybe," Zito, a two-time Derby winner said. "It's a shame because he has all the ability in the world. He's one of the best I've ever had."
The trainer still has two 3-year-olds headed to the Derby in Cool Coal Man and Anak Nakal.
Meanwhile, Pletcher, was down to his last few Derby hopes the past two weeks and his colts came through in a big way. Monba and Cowboy Cal-the 1-2 finishers in the Blue Grass Stakes on April 12-are headed to Louisville, and Pletcher might also send Behindatthebar to the Derby after his win in Saturday's Lexington Stakes at Keeneland.
Now comes the graded-stakes earnings watch. If more than 20 are entered in the Derby-and it appears there will be-preference is given to horses with the most earnings in grade stakes races. Pyro, No. 6 in this week's top 10, is first on the earnings chart at $1,020,000.
Both fillies are in the top 20, and Bob Black Jack is 20th at $180,000. The horses ranked 21-25 are Denis of Cork, Halo Najib, Indian Sun, Tomcito and El Gato Malo.
Big Brown, 3-for-3 by a combined 29 lengths, will have one more workout at Palm Meadows training center in Boynton Beach, Fla., before being shipped to Kentucky on April 28.
Trainer Rick Dutrow said "we're as happy as we can be," with the colt owned by IEAH Stables and Paul Pompa.
War Pass dropped out from No. 5, and Bob Black Jack was replaced at No. 10 by Smooth Air, runner-up in the Florida Derby.