Bike run raises awareness of drunken driving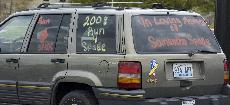 Jennifer Corbett
Samantha Spade was a good kid.
So says Jonathon Beach, who had a psychology class with her. He said he and his friends would always talk and, in the end, Spade would always get in trouble for it.
Beach laughed about this when he reflected on his fond memories of Spade.
The first charity motorcycle rally for Samantha Spade, who died in a car accident Nov. 3 on U.S. 127 near her hometown of Glencoe, Ky., began April 19 at Warsaw Baptist Church and ended at Lot E at Northern Kentucky University. Police said she'd been hit by a drunken driver.
"RPO," created by Beach, is dedicated to preserving the legacy of Samantha Spade by raising awareness through charitable works in cooperation with other student organizations and local companies.
According to Beach, a junior mechanical and manufacturing engineering and technology major, RPO is just a few random letters that Spade and her friends put together in high school to make fun of all the other groups of people.
RPO also held a car show in Lot E next to the Baptist Campus Ministry.
He said the event went pretty well and about 150 people came, with about 50 or 60 people in cars and 12 bikes.
Spade's mother, brother and grandmother attended, according to Beach.
Beach said he had been planning this memorial bike run since the night Spade died and he hopes it will be an annual event.
He noted that RPO is trying to increase drunken driving awareness.