Bell CEO visits campus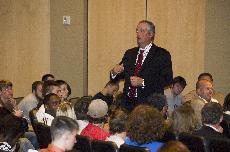 Lacey Elam
John F. Cassidy, president and chief executive officer of Cincinnati Bell, Inc., never graduated from college.
And at Northern Kentucky University April 22, he told students how they'd never be that fortunate.
"I am humbled to be with you tonight," Cassidy said. "I went to school for nine years and never graduated. You're doing something that I never accomplished, and for that I want to send you out of here with the biggest congratulations that I can possibly give you."
Cassidy expressed the value of a degree, and talked about how the opportunities he had without a degree aren't available to a person in the same position today.
Cassidy went on to reveal his insights into the world of business and admitted that there is no simple algebraic formula for success.
"I'm here to tell you the truth as I know it," he said. "I do have some things that I've learned from my mentors that I can share."
Cassidy has been the CEO at Cincinnati Bell since 2003 and has led the company's launch of wireless technology and business in this area and also has extensive experience in telecommunications not only locally, but internationally as well.
He stressed the importance of the customer, and said that to attract and retain customers, you must appeal to the two things that are most important to Americans: convenience and entertainment.
"Human beings, Americans or otherwise, with enough economics, will value time over money," he said. "I want you to think about that as you think about what might make you successful in your entrepreneurial products or world that you're living in."
Vice President of University Advancement Gerard St. Amand introduced Cassidy and described Cincinnati Bell as one of the nation's most respected and best performing local exchange and wireless providers.