Asalon racks up wins at NKU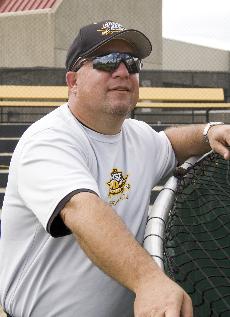 Lacey Elam
Northern Kentucky University Baseball Head Coach Todd Asalon tallied up a victory for the 400th time in his coaching career April 5, with 256 of them as the head coach. Asalon has taken the Norse to three Division II playoffs in his tenure, and is in the middle of his eighth season as head coach right now, as his baseball team has won 12 of its last 17 games.
He also served as the head coach at Thomas More for six years, and the athletic director for two, where he posted a 144-92 record and took the team to its first Division III playoff in 2000. He earned the Association of Mideast Colleges' Conference Coach of the Year in 1995.
He started as a catcher for the NKU Baseball team, and served as team captain in '82, and '83. He was also an assistant coach for NKU before he took the Thomas More Head Baseball Coach position.
In 2006, he guided NKU to the Great Lakes Valley Conference championship and a Division II playoff appearance when they finished 42-20-1 overall, the most wins for NKU since 1989.
In 2002, he earned a 37-24 record overall, taking The Norse to their first GLVC championship, NKU's first playoff since 1990. He was also named GLVC Coach of the Year in 2002.
Asalon had a few balks in the season. The Norse were picked to finish first in the Eastern Division of the GLVC in the preseason. However, fans saw their team struggle with a 1-8 start. Last season, the Norse barely got above .500. This year they had different plans and were able to forget their 1-8 start, running 12 straight wins and 15 of 16 by completely dominating their GLVC competition. They are producing an average of nearly 12 runs a game during the current streak while giving up only an average of 2.5 runs per game. That is an average of 10 runs per game.