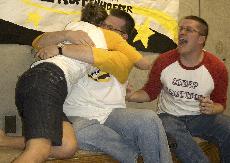 She paced the halls of the University Center. He sat there calmly joking around. But as the time approached, they huddled together waiting and waiting for the news to come. She sent her love to her friends in the event she had a heart attack. Then he got the call.
Gabe Cronon, candidate for Student Government Association president and student regent, looked over to his running mate Melissa Koppenhoefer, the candidate for executive vice president and said one word: "Congratulations." Cheers filled the room as the two embraced. But the waiting was not over.
One by one, the other candidates on the ticket got their calls and learned they too were victorious. The Cronon-Koppenhoefer ticket had a clean sweep, with the pair themselves winning by just a 25-vote margin.
Kevin Reynolds won the position of vice president for student involvement, Tracy Osborne won the position of vice president of public relations, and Shauna Prentice, unopposed, retained her position of vice president of administrative affairs.
"First of all, it's a sense of relief," Cronon said about the victory. "It's a tremendous responsibility to take on, so I can breathe now. But I'm pretty sure in the morning the pressures in being student president and student regent will hit."
Cronon attributed his win not only to his hard work but also to the voice of the students.
"I think I won because I've worked hard at this university for four years and I've done so much and I chose a great running mate and I took the high road and I truly believe in representing the students," he said. "The students came out and voted and this was the student choice. It wasn't anything that I think I specifically did. They took the initiative to vote."
Cronon's running mate, Koppenhoefer, said she never imagined being in this position.
"It feels amazing. I did not think that I could do this until Gabe asked me to run with him," she said. "It was never a thought of mine and so, to go in without expecting to do this, it feels amazing that our hard work paid off."
"I don't think I've ever worked harder for anything or felt more passionately about something," she added.
Cronon and Koppenhoefer both said they would start planning for next year now and work on reinvigorating the efforts to update the SGA Constitution.
On the other side of campus, the news they dreaded came in for Cronon and Koppenhoefer's opponents, Anthony Gulla and Elizabeth Coleman.
"I'm disappointed, that's to be expected," Gulla said. "I hate to see him win of course," he said referencing Cronon. He also offered his congratulations to Cronon.
Gulla thanked his campaign workers saying, "It's a lot of work, a lot of time, [and] they're running on two to three hours of sleep."
Koppenhoefer said the race was a challenge.
"It was a tough rough and it was very challenging and, you know, they put up a good fight," Koppenhoefer said about her opponents. "Every vote mattered in this election and every campaign was working to get those votes. So, we all worked hard."
Indeed, every vote did count as the Cronon and Koppenhoeffer won by only 365 to 340 for their opponents.
Reynolds won by the largest margin among the candidates, with 390 votes to Kaeli Wilke's 283 for Vice President of Student Involvement.
"I'm incredibly excited. This is the [executive board] that deserves it," he said. "It's on the back of my shirt saying that it's 'the smart choice.'
"Student government next year will be the best it's ever been at this University," he added.
Tracy Osborne squeaked past Mike Roark to win the position of vice president of public relations by a vote of 284 to 271. Erica Conroy received 148 votes.
"It feels great," Osborne said. "I'm definitely gonna work hard to get SGA's name out there and start publicizing us and what we do and what we stand for."
Finishing up the ticket was Shauna Prentice who ran unopposed and won the position of vice president for Administrative Affairs with 635 votes.
Only 12 senators ran for the 15 open positions. All those appearing on the ballot were elected, and were joined in victory by three write-in candidates: Ryan Jones, Arielle Curry, and Wade Miller.
Michael "Big Mike" Tobergta received the most senatorial votes with 395. Parker Laboiteaux lost the opportunity to serve in the SGA Senate by one write-in vote.
For the judicial council, no candidates actually ran. However, the election was open to write-in candidates. Andrew Stewart, Michael Rerecich, and Sheree Davis won those positions with only a handful of votes each.
In all, 796 students cast their votes in this election out of NKU's student population of 14,617, making the voter turnout only at 5.45 percent.
The Northerner's Joe Szydlowski and Cassie Stone contributed to this report.