Robinson etched in stone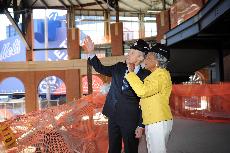 Marc Levine
Rachel Robinson walked past cheering construction workers and into the Jackie Robinson Rotunda for the first time, stood on a balcony above the 160-foot wide floor and was awed as she gazed at the 70-foot high arches.
"It's like walking into a cathedral in a way," she said. "I love St. Peter's in Rome, but I don't know if I can compare this to St. Peter's."
On the 61st anniversary of the day her husband broke major league baseball's color barrier, more than 330 players, managers and coaches – including nine entire teams – wore Jackie Robinson's No. 42 to celebrate the Hall of Famer's accomplishments. The center of the celebration was at Citi Field, the New York Mets' $800 million ballpark under construction adjacent to Shea Stadium.
The Mets unveiled designs for the rotunda, which will contain eight huge pictures of Robinson and have an 8-foot statue of his number, 42 in Dodger blue. It will be the central entrance for the ballpark, which opens in 2009, and the Mets estimate 30,000 fans per game will pass through.
"People will say: 'I'll meet you at 42.' Everybody will know where that is," Mets owner Fred Wilpon said, lovingly putting his hand on the back of Rachel Robinson, still spry at age 85.
But even as her husband's legacy was being memorialized in stone, brick and terrazzo, a study was released that said blacks made up only 8.2 percent of major league players last year, down from 8.4 percent in 2006 and the lowest level in more than two decades. The figure was 19 percent as recently as 1995 according to Richard Lapchick of the University of Central Florida's Institute for Diversity and Ethics in Sports.
"I'm very disappointed by that fact," Robinson said. "Competition from other sports is certainly a big factor but there are many factors. We've got to work on it in terms of getting younger children playing, into the game, and getting communities behind the programs.
Jackie Robinson broke the color barrier when he played for the Brooklyn Dodgers for the first time on April 15, 1947. His number was retired for all major league teams during ceremonies at Shea Stadium attended by President Clinton on the 50th anniversary. Yankees reliever Mariano Rivera is the only player remaining from then who still wears No. 42 throughout the season.
Nine Jackie Robinson scholars read values that defined the player during a news conference at Shea Stadium before people moved over to the new ballpark. The Robinson Rotunda will have those values engraved into its floor and etched into its archways: "Courage. Excellence. Persistence. Justice. Teamwork. Commitment. Citizenship. Determination. Integrity."
"My father did not write them down, but very much he lived these values," Sharon Robinson said.
"This is an overwhelming experience," Sharon Robinson said. "At my stage of life, you're looking for permanence, you're looking for things that are going to shore up the future. So many times developments don't last, progress doesn't last. What the rotunda means to me is we have evidence of the progress we've made in the past."
She stood next to Wilpon, a longtime family friend. When he was about 16, he was a Dodgers batting practice pitcher and became a baby sitter for the Robinsons. He's long thought about creating this tribute.
"When fans and families and children walk through that rotunda," Robinson said, "I hope they're going to reflect on not just what they see that Jackie Robinson accomplished, but also think about themselves and say, 'What am I doing? How am I running my life? Who am I affecting? What am I doing in my community?' I think they ask the question and ponder on that. And if people begin to reflect on that, they might want to join the struggle."