Norse continue winning ways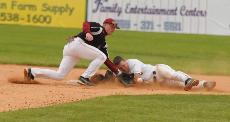 Jeff McCurry
The Northern Kentucky University Baseball team won three of four games against the University of Indianapolis April 12 and 13, moving the Norse a half-game away from first place in the Great Lakes Valley Conference East division.
NKU outscored Indy 30-12 over the four-game set, dropping the Greyhounds' record in the GLVC from 7-5 in the conference to 8-8.
During the first game, senior second-baseman Jon Back set NKU's all-time stolen-base record in the sixth inning with the 76th steal of his career, according to NKU's Sports Information Web site.
Back, who now has 77 successful steals out of 100 attempts, talked about what makes him such a good base thief.
"It's not always about speed. I'm not the fastest guy, but I can read pitchers and get a good jump," he said.
In the second game versus Indianapolis, the Norse held a 6-5 lead into the final inning. The Greyhounds threatened with a two-out single in their last at-bat, but catcher Brad Johnson snuffed out the potential rally and ended the game by throwing out the Indy base-runner while he attempted to steal second.
The Norse followed the clutch Game 2 win, however, with an 8-2 loss in Game 3, before rebounding for a 6-0 shutout win in Game 4.
The team's overall record stands at 24-14 as the Norse enter the toughest section of their schedule, playing four games against both St. Joseph's and Bellarmine-First and third place in the GLVC East, respectively-and two games against GLVC West leader Southern Indiana.
Preceding this tough stretch of games, the Norse have outscored their last 13 opponents by a margin of 146 to 37 runs.
Despite not being challenged in a large majority of these games, Back doesn't see this as a negative for the team moving forward.
"It's not going to be nearly the same competition," Back said. "