Griffey hits No. 595 in loss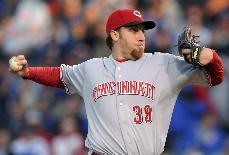 Paul Beaty
Dusty Baker knew exactly what to look for when he returned to Wrigley Field.
"The first thing you do when you get here, you check the wind," he said.
It was blowing out.
Derrek Lee hit a three-run homer and started a pivotal double play to help the Chicago Cubs beat their former manager and his Cincinnati Reds 9-5 on a blusteryApril 15 night.
Baker managed the Cubs for four seasons and got them within five outs of the World Series five years ago, but after a last-place finish in 2006, his contract was not renewed.
When Baker brought the Reds' lineup card out before the game, there was some mild booing. But when he came out of the dugout to change pitchers in the seventh and eighth innings, the booing became loud.
Lee's fifth homer was a long drive to left-center on a night with the wind blowing out at 19 mph and gusts up to 26 mph. Mark DeRosa and Ryan Theriot also connected for the Cubs.
Ken Griffey Jr. hit his 595th homer, and Joey Votto added a solo shot in the ninth for the Reds.
Aaron Harang (1-2) took his first career loss at Wrigley Field, where he had been 4-0 in eight previous appearances. Harang gave up eight hits and five runs in six innings and fell to 8-4 lifetime against the Cubs.
Chicago closer-turned-starter Ryan Dempster (2-0) gave up five hits and four runs in six-plus innings. He left during the seventh when the Reds loaded the bases with no outs but scored only one run, thanks to stellar defensive plays by Fontenot at second and Lee at first.
Griffey's homer was a two-run shot to center off Dempster and it gave the Reds a 3-2 lead in the third. The Reds' star is sixth on the career list. No. 5 is Sammy Sosa with 609.