Norse dominate weak opponents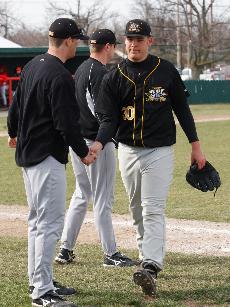 Tim Downer
The Northern Kentucky University Baseball team has won its last 10 games by a margin of 126 runs to 25 runs, improving its record to 21-13 overall and 12-3 in the Great Lakes Valley Conference.
Granted, eight of the ten victories came against Lewis University and Kentucky State, who have 7-16 and 2-25 records respectively.
During the win-streak, senior infielder Jon Back tied NKU's all-time stolen-base record with 75 for his career. Back has showed that he possesses power as well as speed, by leading the team in home runs this season with five and slugging percentage at .574. He also leads the team in runs scored, doubles and is second in batting average.
Pitcher Ryan Schmidt has also tied an NKU record during the win-streak, amassing 28 consecutive scoreless innings. Schmidt leads the team in wins with five, ERA with a 1.00 and strikeouts with 32.
The Norse should get a tougher test from GLVC opponent Indianapolis during two double-headers April 12 and 13. Indianapolis is in 4th place in the GLVC east, one spot behind NKU.
In the team's latest double-header April 8 against Kentucky State, the Norse offense was led in large part by Ian Durbin, Brad Williams and Pat Johnson. Williams and Johnson each hit 3-run home runs, while Durbin went 6-for-8 with two doubles and three runs scored. Durbin has made the most of his meager 24 at-bats this season by collecting 11 hits for a .458 average.