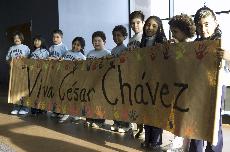 Nancy Bhola
Even in death, Caesar Chavez's story brought together crowds of workers, families, students, city officials, religious figures and everyday people to a vigil on March 31 at the National Underground Railroad Freedom Center. Northern Kentucky University's Latin Student Association was also there, calling for a national holiday in his honor.
"We don't need a Caesar Chavez Day in this country, the world needs to live the life of Caesar Chavez," said Sister Guerdeman of Sisters of the Devine Providence.
"I attend the mass at the Hispanic community at St. Charles, so I heard about it there and I came down here to see what they're doing," said Chris Cole, a person who attended the event said. "I'm just waiting to see what the moderators have to say."
Professor Syl Flores of NKU, Sister Alice Guerdeman of Sisters of the Divine Providence and Reverend Damon Lynch Jr. of New Jerusalem Baptist Church, gave candid testimonials of Chavez's movement in the war against injustice and discrimination. Chavez is known for his blunt acts of activism in fasting, demonstrating to his opponents the effectiveness of nonviolence to his opponents.
Chavez, founder and president of the United Farm Workers Union, focused national attention on the plight of farm workers. He championed man other causes as well, using non-violence doctrine from the likes of Gandhi, and Martin Luther King, Jr.
"Caesar Chavez once said, 'You can't change anything if you want to hold onto the good life'," Guerdeman said. "Chavez was an adherent to nonviolence civil disobedience and he serves as a model for all America," Reverend Lynch Jr. said. "He was a gift, not only to America, but a gift to this world."