Softball drops double-header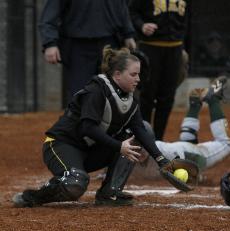 Tom Miller
The Northern Kentucky University Softball team continued to struggle after they suffered a double-header sweep Sunday afternoon. The Norse (9-15, 3-5 Great Lakes Valley Conference) were swept by the Missouri-S'T Miners who showed superior hitting and pitching, outscoring the Norse 16-5 in the two games, without using a reliever in either of the two games.
The Norse, who started the season 1-10, were headed back on the right track until the pitching paled in comparison to the Miners.
The Norse pitchers were hit hard, but received little run support from their lineup which has produced just ten runs in the last four games.
In game 1, the Norse fell behind 4-0 early and was never able to regain its composure, eventually getting run-ruled 12-4 in five innings. The Norse almost had as many errors as runs; four to three, and Miners' pitcher Jen O'Hara improved to 8-1 on the season by getting the complete game. Norse junior pitcher Amanda Smith (4-3) started, and was pounded for eleven hits and eight runs (seven earned) in 4 2/3 innings.
Junior Cara Parker was the lone bright spot for the Norse, hitting a homerun, knocking in three runs and scoring two more.
The Norse kept it much closer in game 2, but eventually fell 4-1. Starting pitcher freshmen April Ehlers got the loss to fall to 3-9 on the season, but also knocked in the Norse's lone run of the game in the fourth inning. Missouri-S'T starter Ashley Wallingford was dominant striking out nine, and surrendering just seven hits.
The Norse's next game will be away April 2 against the University of Ashland. Their next home game will be April 10th against Findlay University at 3 p.m.