Reds lose opener to D-backs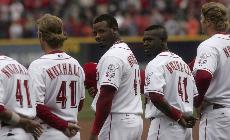 Associated Press
Overpowering pitching, perfect defense and just enough runs. The Arizona Diamondbacks opened the season with the same blueprint that won them 90 games and a division title the last time around.
Why change what works?
Brandon Webb pitched six innings Monday, and the light-hitting Diamondbacks piled up three solo homers in a 4-2 victory that dampened Dusty Baker's debut as the Cincinnati Reds manager.
Unlike Baker's new team, the defending NL West champs have a knack for winning the close ones.
"That's exactly how we won a lot of them," Chris Young, who hit the first of the three homers, said. "The starter goes six, then it's 7-8-9 and get it done."
Pitching against the team he followed as a youth, the northern Kentucky native finally won an opener with a six-strikeout performance. More than two dozen relatives and friends found a way to get tickets for the sold-out game.
"Opening day is so special here in Cincinnati," said Webb, who never got tickets to one when he was growing up in Ashland, Ky. "To do it so close here and have that many fans behind me, it was definitely sweet."
Even the Reds noticed.
"We had a lot of people, but I think half of them were from Webb's hometown," Baker said. "He pitched an outstanding game against us. That's not the outcome you want to have."
The Reds didn't get a runner into scoring position in the last five innings.
"I think we were trying to do too much," said Brandon Phillips, whose triple set up both of Cincinnati's runs. "It was like we were trying to prove something instead of trying to win the game. A lot of guys were swinging at balls they don't normally swing at."
The Reds turned the opener into a tribute to former pitcher and broadcaster Joe Nuxhall, who died last November.
A cold, misty rain was falling when Reds coaches and players took the field for pregame introductions wearing jerseys with Nuxhall's No. 41 and his name on the back.
All but Harang switched into their regular jerseys for the game.
Harang got permission from Major League Baseball to wear his during the game, then donate it to the team's hall of fame.
"They came to me and asked me to wear it, and I didn't think twice about it," Harang said. "I started knowing him in '03, and you're not going to find a better guy."