Play's formula equals good entertainment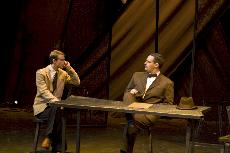 Courtesy of the NKU Theatre Department
The Northern Kentucky University Department of Theatre and Dance scores again with its latest production of "Breaking the Code."
"Breaking the Code," which runs alongside with "Miss Julie" through April 6, tells the story of Alan Turing, a mathematician who helped break the complex encryption of the German 'Enigma Code' – ultimately turning the tide of World War II.
However, the British government questioned his findings after Turing's homosexuality was revealed.
The play, directed by Ed Cohen, focuses less on Turing's contributions to mathematics and science and more on the idea of love and human companionship. Because the show is running in repertory in the Stauss Theatre, it has a minimalist set comprised of a table and a few chairs in the foreground.
The entire cast is on stage for the whole show. In particular scenes, the cast sits on stools at the back of the stage. This, along with seamless scene changes, makes for some soothing visuals and gives the set life and intensity throughout the show.
The nine wonderful cast members center around junior Cary Davenport, who gives a brilliant portrayal of Alan Turing.
"It was immensely challenging for me. I had to really stretch myself, because of the complexity of the character," Davenport said.
Freshman Cindy Head (Pat Green) said being part of "Breaking the Code" was a truly amazing experience.
"Since the cast was small and remained on stage the entire show, I had a great opportunity to learn a lot from working so closely with the other cast members," Green said.
As if the show and direction weren't challenging enough, the cast also had to jump hurdles when it came to sharing the stage with "Miss Julie," but even that made for an interesting experience.
"Constantly having to adapt and readjust due to the other shows needs was tough, but it allowed the rehearsal process to remain fresh and interesting," freshman Simon Powell (Ron Miller) said.
Freshman Sean Harkless, who plays Christopher Morcom, agreed with Powell.
"Doing this show in rep is what is keeping me alive. In being on stage the entire time, but not necessarily doing anything except trying to be engaged in the action, is extremely exhausting and I think having those nights where we can rest a bit really helps," Harkless said. "However, it does make the whole process seem a little slow and drawn out."
With a wonderful set, an amazing cast and a tough, yet timely, subject, "Breaking the Code" has all the elements it takes to put on an incredible show.
"Breaking the Code" is playing April 2, 3, and 6 in the Stauss Theatre.
All showings are sold out, but if you show up to the theatre around 7 p.m., the box office has confirmed some tickets will become available from season-ticket who holders who did not show up for the performance.
Whether you are attending for the history or the pure entertainment of the theatre, "Breaking the Code" is a historical, and NKU, masterpiece.