Norse defeat Panthers to win series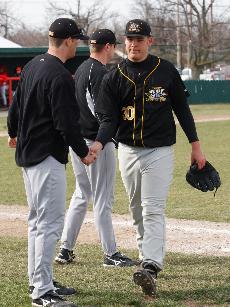 Tim Downer
The Northern Kentucky University Men's baseball team is now at a .500 record on the season after winning three of four games against Great Lakes Valley Conference rival Kentucky Wesleyan College, March 29 and 30.
In the first double-header, March 29, NKU shut out KWC by scores of 10-0 and 3-0. In the first game, the Norse busted out with a nine-run sixth inning en route to the 10-0 shutout.
Starting pitcher Ryan Schmidt threw six shutout innings, and reliever Eric Braeckel added three scoreless innings-combined, the duo gave up just five hits.
In the second game, the Norse came out on top thanks to the hot bats of Jon Back and Drew Rushing, and steady pitching from Brandon Slusher.
Back and Rushing both went 2-for-3, while Slusher pitched seven innings of shutout baseball.
In the second double-header, March 30, NKU dropped the first game 4-0, but rebounded in the second game with a thrilling 4-3 extra-inning victory.
The hero in the bottom of the 10th inning was catcher Larry Pempek, who singled home Jack Ambrose for the winning run.
For the Norse, the March 30 two-game set was marred by seven errors total in the field, which accounts for one-fifth of their total errors (35) for the season (25 games).