Love and lies for 'Miss Julie'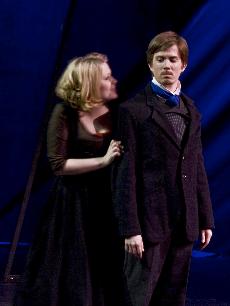 NKU Theatre Department
NKU's Department of Theatre and Dance brings a taste of Midsummer to early spring in "Miss Julie."
"Miss Julie," directed by Brian Robertson, takes place in Sweden, where Midsummer rivals Christmas as the most important holiday of the year, according to dramaturge Hannah Buescher's notes on the play.
It is a story of forbidden love, deceit and shows the characters' hopes and fears from a relatable standpoint, taking place in the year 1900.
There are only three characters in the play, but so much emotion is portrayed by the three that no others are needed; they would only get in the way.
Brittany Sullivan plays Miss Julie, and she goes through a great transformation throughout the play. She starts off as a sarcastic, mocking rich lady and becomes a vulnerable, emotional woman.
Miss Julie's transfornation comes from the changes in Jonathan Pernisek's portrayal of Jean, the coachman of the manor. He has the most layers of the characters in the play. He starts off as a proud servant, slowly deteriorating into a demented tyrant.
Katie Kershaw plays Kristine, the most stable of all the characters. Her biggest change comes from the disgust of what has become of Julie and Jean.
She also gives one of the creepiest renditions of "It's Raining, It's Pouring" ever.
Tension and anticipation gradually builds throughout the play.
The audience is left wanting more after the 90 minute show flies by.
An ominous score plays during the more dramatic parts, but there is also more uplifting songs. Robertson, also the sound designer, provides sounds ranging from almost angelic to nearly demonic. There is a psychedelic quality to the echoes in the background.
The wardrobe represents the transformation of each character superbly. It was clear how the characters felt by how they wore their costumes, created by costume designer Hannah Dringenberg.
The setting takes place in the estate of the Count, who is merely referred to by other characters. The set had an extravagant post-modern feel, with long black-poled structures reaching from the ceiling to the floor creating doorways, and the large purple banners in the background by set and properties designer Dori Shaw.
"Miss Julie" runs on April 1, 3, and 5, but tickets are going fast. Tickets cost $10 for adults. $9 for faculty and staff, $8 for senior citizens, and $6 for students. Call (859) 572-5464 to reserve a spot.