All-American in humility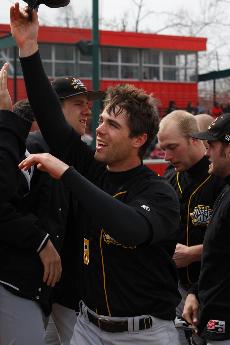 Tim Downer
Jake Shaffer prays before every baseball game during the national anthem. He's been a Christian since he was 5-years-old, and said he came to Northern Kentucky University after he prayed to God.
But the junior Norse captain, Division II All-American and early-round Major League draft prospect doesn't consider himself religious.
"Man created religion," the biology major said. "I like to say faith."
Shaffer, who's been playing for NKU since 2007, said since his aunt and uncle converted his family, he's followed the Bible. For him, nothing comes before God. Prayer, he said, accompanies any major decision. Including the decision to come to NKU.
Shaffer began attending and playing baseball at Winthrop University in South Carolina. According to the NKU Sports Information Web site, he helped the school earn a 46-18 record, batting .281 in his freshman year. But, he said, Winthrop wasn't for him. He said after going under the scalpel once and then still needing an additional surgery, he started refocusing his life on academics.
"I was almost ready to think about starting something new, downgrading the passion baseball had in my life," he said. Then, "God led me down to NKU." He said that the school offered him a chance to play baseball, while centering his energy on academics. "It turned out that NKU was where I needed to be."
Nevertheless, he didn't leave Winthrop with an empty glove. There, he met his fianc'eacute;e, Elizabeth Williams. They spent a year apart, he said, but that only strengthened their relationship. Williams is now a graduate student at Miami University.
On the field, Shaffer and the Norse have hit some rough patches. They lost the double-header to Findlay March 24, 7-2 and 9-6. That was after a strong weekend showing against the Missouri-S'T Miners.
Teammate Evan McDole, a third-year accounting major, said Shaffer has the talent to lead the Norse.
"He's one of the best hitters I've played with," McDole said. "Jake is a five-tool player. "
Shaffer has the ability to hit for average (.355 this season), he has good speed (8-for-8 in stolen bases) and plays good defense with good arm strength. He "can make a play whenever you need it," McDole said.
For Shaffer, the best part of the game is "that second when you just hit a ball and it feels like you hit a ball as hard as you possibly can."
But for that chance, he credits only one being – God.
"He's given me this ability to play baseball," Shaffer said. "Baseball is just a game. Baseball's going to be gone, whether it's tomorrow or 15 years from now. My faith is what gives me true joy."