WTF: Librarians quietly assisting students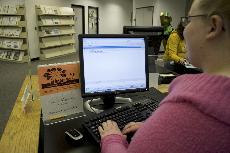 Lacey Elam
You've got the assignment for your business class right there in front of you. The books you've checked out are splayed out on your desk and you're halfway through that 10-page essay when you realize that you need at least one periodical source to get that "A." But where do you even find a business journal? The assignment is due in a matter of hours and you need to get this done, so you log into AIM.
Yes, that's right. The Steeely Library "Ask a Librarian" service allows students to log into their favorite instant messenger service (Yahoo, MSN or AIM) and chat directly with a librarian for help with anything from in-depth research to quick questions about how the library's services.
"Just ask your question and see where it leads," Michael Providenti, Web development librarian, said. "You don't need to guess which service you need. You just need to ask the question."
Although the instant-messaging service isn't the only way to ask a question at the library, it is one of the quickest.
"You can call or stop by the information desk, send an IM or email. If the question is complicated we might suggest a consultation. Otherwise, depending on the question, how busy it is, etc, we may just help you on the spot," Providenti said.
Everyone can use the services at Steely Library, but students are especially encouraged.
"The public library specializes in things we don't and we have resources a public library wouldn't have," Providenti said.
He added that the information itself, which is often hard to find outside of Steely Library, can be difficult for students to grasp. Because of this, librarians themselves are something to take advantage of.
"Evaluating materials can be complicated too – a librarian can help with that," Providenti said.
Steely Library also has special collections and resources that are only available in hard copy.
"Not everything is available via Google and copyright restrictions are complicated," Providenti said.
To consult a librarian via instant message, message the screen name steelyhelp for either AIM or Yahoo Messenger or steelyhelp@hotmail.com for MSN Messenger.
Other ways to consult a librarian include through e-mail (there is a form on the Ask a Librarian website http://library.nku.edu/ask), by phone (572-5456) or by scheduling a more in-depth research consultation either through the Ask a Librarian Web site or in person at the information desk on the third floor of the library.
There are also plans looking to expand the Ask a Librarian service program to include text messanging for the summer or fall term, but details are still being ironed out.